Kimana House, Kimana Sanctuary, Amboseli
A gem of a private safari house within Kimana Sanctuary, part of a vital wildlife corridor between Amboseli and Tsavo National Park and the Chyulu Hills, Kimana House enjoys a peaceful riverside setting shaded by towering fever trees and is the perfect location for a memorable and scenic break in the bush.
"Thank you for the most delightful stay and such magical moments. Witnessing three elephant families walking gracefully towards the forest in the golden dusk, a morning walking safari with such an abundance of wildlife and birdsong, and having the place all to ourselves. The seclusion and privacy of the sanctuary is incredibly special."
Kimana Sanctuary is special. It is the central part of a crucial corridor that links Amboseli National Park with the Chyulu Hills and Tsavo protected areas, providing animals with a route through the narrowest part of the space between two settled areas. It hosts majestic bull elephants and family herds as they undertake their seasonal journeys and is a permanent home to a remarkable diversity of woodland and savannah species.
For visitors, it is a wonderful place to observe peaceful and relaxed animals in a beautiful environment. With Kilimanjaro to the south and the Chyulu Hills distantly to the north, the views are spectacular. Driving along the river you will be shaded by magnificent yellow fever trees, with grey-headed kingfishers darting along the banks and vervet monkeys keeping a watchful eye from the lower branches.
"Kimana Sanctuary and Kimana House are absolute gems of the Amboseli ecosystem. We were beyond thrilled to see large groups of elephant, ostrich, giraffe, eland, gazelle, reedbuck, zebra and more. We loved the resident warthog on the lawn of the house! Thank you to the whole team for an incredible stay and experience and to Big Life Foundation for protecting this very special place."
Out on the open plains among the umbrella acacia trees you will find a profusion of plains game – including giraffe, zebra, gazelles, antelope, eland and a thriving population of warthogs – together with the occasional lion and cheetah.
The sanctuary is communally owned by the local Maasai people, who in 1996 had the vision to set aside this land as Kenya's very first community conservancy. Tourism provides much needed revenue for local communities and is a critical incentive for preserving this important area of land.
The conservancy employs a team of 22 rangers who provide wildlife security throughout the sanctuary and work tirelessly to mitigate any conflict between wild animals and the neighbouring landowners, ensuring the safety of both people and wildlife.
"What a magical spot! Joshua, Jimmy and their team could not have done more for us. They made our stay perfect! The beauty and tranquility of the garden would have been enough – but the sanctuary was also just so beautiful and green and with so much healthy-looking game. The bird life was in abundance too. It was a very special four days. Thank you."
Summary
A comfortable and welcoming private retreat in a unique bush location
The only accommodation in the 5,700-acre Kimana Sanctuary
Wonderful views of Mount Kilimanjaro and surroundings
Enjoy abundant and unlimited game viewing within the conservancy
Situated on an important elephant migration route
Just 45 minutes from Amboseli National Park
Accommodates up to 8 guests in four ensuite double/twin bedrooms
Rates from ksh 55,500 per night for up to 4 guests 'self-catering'  inclusive of the use of game drive vehicle and driver/guide for safaris within Kimana Sanctuary and Amboseli National Park
Detailed information
Accommodation and Facilities
Main House – two double bedrooms and one double or twin bedroom
One twin bedroom (detached from the main house and with a separate entrance)
All bedrooms have ensuite bathrooms
Living and dining room with fireplace
Veranda with living area and dining table
Well-equipped kitchen with gas oven with 4 hobs
Makuti-thatched garden pergola
Drinking water filter provided (Unilever PureIt).
BBQ provided – BYO charcoal.
Large chest fridge and a small upright fridge/freezer.
Solar power system with inverter.
Water is heated by a combination of a wood-burning boiler and a solar water heater.
Travel cot and high-chair available on request.
Firewood provided.
4×4 vehicles required.
There is a small wallowing pool in the river – pack swimsuits for hot days
No Wi-Fi – but a good Safaricom 3G network.
Location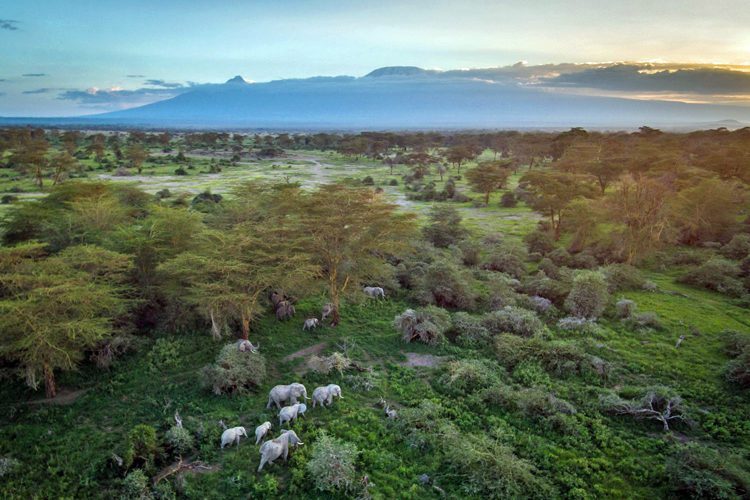 A community owned wildlife conservancy in the heart of the Amboseli ecosystem, Kimana Sanctuary is located 160 kilometres south of Nairobi, just to the South East of Amboseli National Park. Kimana's varied terrain includes swamps, riverine forest, open bush and tortillis woodland and the conservancy is an important conduit between the larger wilderness areas and National Parks either side of it. At its narrowest, this wildlife corridor is only a few hundred metres wide, but is traversed by many of the world's largest elephants. Kimana's springs and watercourses are also a vital resource and habitat within the wider ecosystem.
How to get there
Kimana is approximately 200 km by road from Nairobi – around 3.5 hours' drive via Mombasa Road and Emali or via the less congested Kiseraian and Isinya route. Guests are supplied with detailed directions to the property.
The Kimana Gate to Amboseli National Park is approx. 30 km or 45 minutes' drive from the house.
There is a private airstrip at the Sanctuary. Coordinates: 2º 44′ 55" S, 37º 31'31" E. Please give at least 24 hrs notice before landing and be careful of wildlife on the airstrip.
Visitor's Book
"Thank you for the most delightful stay and such magical moments. Witnessing three elephant families walking gracefully towards the forest in the golden dusk, a morning walking safari with such an abundance of wildlife and birdsong, and having the place all to ourselves. The seclusion and privacy of the sanctuary is incredibly special."
"Kimana Sanctuary and Kimana House are absolute gems of the Amboseli ecosystem. We were beyond thrilled to see large groups of elephant, ostrich, giraffe, eland, gazelle, reedbuck, zebra and more. We loved the resident warthog on the lawn of the house! Thank you to the whole team for an incredible stay and experience and to Big Life Foundation for protecting this very special place."
"What a magical spot! Joshua, Jimmy and their team could not have done more for us. They made our stay perfect! The beauty and tranquility of the garden would have been enough – but the sanctuary was also just so beautiful and green and with so much healthy-looking game. The bird life was in abundance too. It was a very special four days. Thank you."
Rates
Accommodation Rates – from 4th January 2023
Including the use of game drive vehicle and driver/guide for safaris within Kimana Sanctuary and Amboseli National Park (park entry fees not included)
Self-catering with on-site manager and housekeeper
Ksh 55,500 per night for up to 4 guests
Ksh 61,500 per night for up to 5-6 guests
Ksh 67,500 per night for 7-8 guests
Minimum stay – 2 nights
A good chef is available for ksh 2,000 per day – payable directly at the property – please book his services in advance of your stay
Easter, Christmas, New Year and bank/public holidays – ksh 6,000 per group per night additional supplement, with a minimum stay of 3 nights
Conservancy Fees
Kenyan citizens & residents – Ksh 1,200 per day
Citizen & resident children 6-18 – Ksh 600 per day
Non-residents – Ksh 3,000 per day
Non-resident children 6-18 – Ksh 1,500 per day
Children 5 years and younger – free of charge
Maximum occupancy – 8 guests
'Check in' from 12 noon, 'Check out' by 10 am
Access by 4-wheel drive vehicle only
The owners require all adult guests to sign an indemnity / disclaimer form on arrival
These rates, terms and conditions are valid for stays up until 31st December 2023
Please contact us to make a booking
Please familiarise yourself with all our terms & conditions when making a booking
Availability Calendar
Please click through and refresh the calendar in order to see the most up-to-date availabilities