Koros Camp, South Horr, Marsabit
A rustic and luxurious private camp in a genuinely remote and unspoilt location, Koros Camp is the perfect off-the-beaten-track retreat for the intrepid traveller, and the ideal base from which to explore Lake Turkana, the Chalbi Desert and the wilds of Northern Kenya.
"What an amazing place and truly a labour of love. There is so much to see & do around the place – exploring the Chalbi desert, swimming in Lake Turkana, driving up to Sibiloi, visiting Central Island or just climbing up a rock to look at the sunset! But who wants to go anywhere else when you can lounge by the rock pool, sit by the fire and enjoy stunning moonrises right there in camp? All the staff were really helpful and Lepatoiye proved to be an excellent cook. I can't wait to go back again!"

Jeske, Nairobi
If you have ever longed to visit Lake Turkana, Kenya's fabled 'Jade Sea', and the beautiful, remote and rugged 'far north' of the country, but have been deterred by the apparent lack of comfortable accommodation in the region, then Koros Camp may be the answer to your prayers.
Set on the 250,000-acre Ol Donyo Mara Conservancy, Koros is the inspired creation of a Nairobi family who have been involved for many years with the nearby Lake Turkana Wind Power Project. What started off as a basic weekend retreat became, over time, a comfortable and well-equipped base for family holidays. And now they have decided to share this wonderfully original and much-loved retreat with visitors to the area.
Bedroom accommodation at the camp consists of five safari tents, each of which can be configured either with twin beds or a double bed – sleeping a total of ten guests. Hot showers are alfresco, along with lavatories in the separate bathroom block.
The Mess, the camp's main living and dining area, is comfortably furnished with dining table and chairs and built-in sofa seats. There is a small and well-equipped kitchen behind the Mess which has its own gas stove, from where David the chef conjures up a range of delicious meals. For keen grillers there is a BBQ inside the Mess where guests can cook while socialising.
"A fantastic camp tucked away in paradise! I have seen the camp evolve and grow into a proper classic rustic luxury safari camp. The staff are wonderful and the chief chef is excellent. You can't beat the sundowners and star gazing at Koros. A gem for birdwatchers too. Looking forward to being there again soon."

Bijal, Nairobi
One of the highlights of the camp is the incredible, and incredibly refreshing, natural rock swimming pool known as the 'cuddle puddle'. Enjoy a relaxing dip and incredible 360-degree views of the valley and the surrounding hills of Mount Ol Donyo Mara and Mount Nyiru. Here there is also a poolside dining and barbecue area.
The owners of the camp have their own private accommodation not far away, and are often available to greet and host guests and provide advice on what to do and see locally.
And at all times there is a competent team of staff on hand to ensure that your stay is as easy and comfortable as possible. David (ex Lewa Downs), looks after the mess and kitchen, and is a good cook with a wide repertoire of dishes. Lekeren is the tent steward. Nikolos and Lekupe are the camp askaris.
The area has an abundance of bird life including the rare Heuglin's Bustard. It's possible to see around 50 different species of bird in the vicinity of the camp – and friendly and entertaining hornbills are always on hand at the birdfeeder beside the Mess.
There is a variety of animal life in the area and if you are lucky you may spot cheetah or leopard. One is also likely to see dik dik, Caracal, Grevy's zebra, baboons, vervet monkeys, black-backed jackals, honey badger, gerenuk, mongoose, greater and lesser kudu, grants gazelle and porcupine. The resident genet cat 'Wifi' may join you for dinner each evening.
As well as trips by road to Lake Turkana or the Chalbi Desert, there is plenty to discover on foot from the camp. Explore the valley on a lugga walk with one of the camp's Samburu guides, or enjoy a challenging hike up one of the surrounding hills. Of course you may simply prefer to relax in the peace of the camp, enjoying sundowner drinks, camp fires and the lovely refreshing pool.
Summary
A very special and well set-up private bush camp
Set in a beautiful, wild and untouched corner of Kenya
Around 11 hours from Nairobi on good new roads
Swimming pool, chef and staff
Wi Fi
Accommodates up to 10 guests in 5 double/twin-bedded tents
Standard rental rate – ksh 42,500 per night
Detailed information
Accommodates 10 guests in 5 luxury safari tents
Tents can be twin or double-bedded
All bedding and towels are supplied
Dining and living 'mess'
Solar-powered lights
Fully equipped kitchen
All crockery, cutlery and glasses are supplied
Gas cooker or barbecue
Four full-time staff including chef
Rock swimming pool with sunshade
Poolside dining area
Camp fire
Bathrooms with alfresco showers
Shampoo, conditioner & soap are provided
Wi-fi
Charging facility for phones etc.
Drinking water
Free laundry
Activities & Excursions
Lugga walks
Hiking the surrounding hills
Birdwatching
Wildlife viewing
Stargazing
Visit Lake Turkana
Go fishing on the lake
Visit a local Samburu manyatta
Visit the rain forests of Mount Kulal
Location
Koros Camp is situated in a beautiful and unspoilt part of Kenya's northern Rift Valley around 400 km north of Nairobi as the crow flies. The nearest small settlement is South Horr which is just over 20 km to the south of the camp. The village is set in a beautiful canyon and is an oasis of green between Mount Nyiru and Mount Ol Donyo Mara. At South Horr there is only basic shopping and no fuel for sale – it is best to stock up on supplies en route at Nanyuki or Isiolo.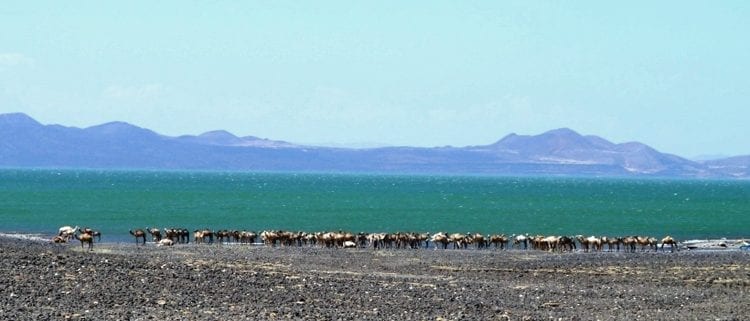 Lake Turkana – Kenya's fabled 'Jade Sea' is 35 km north west of the camp as the crow flies and around 50km by road. To drive to the lake takes around an hour. It is the world's largest permanent desert lake and the world's largest alkaline lake. The drive to the lake goes via the Lake Turkana Wind Power Project – Africa's biggest wind power scheme and the single largest private investment in Kenya's history. It consists of 365 wind turbines on 40,000 acres of land.
How to get there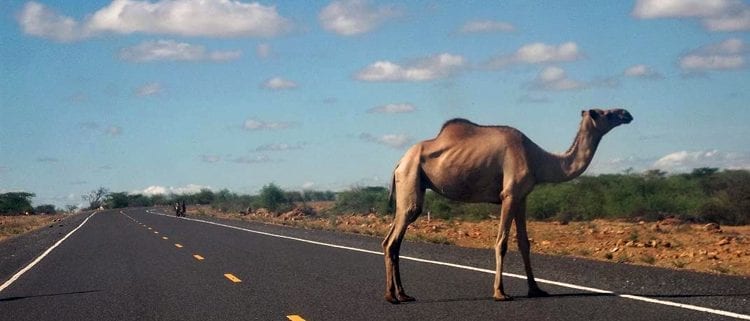 From Nairobi the best way to get to Koros Camp by road is via Nanyuki, Isiolo, Archers Post and Laisamis – the distance by road is over 650 kilometres and the drive should take about 11 hours. The road is excellent and all tarmac from Nairobi up to Laisamis. From Laisamis to South Horr and the Camp the roads are well-maintained murram. We can supply detailed driving instructions and advice. There is a helipad at the camp, and the nearest airstrip is at the Lake Turkana Wind Power project about 20 minutes drive from the camp.
Visitor's Book
"What an amazing place and truly a labour of love. There is so much to see & do around the place – exploring the Chalbi desert, swimming in Lake Turkana, driving up to Sibiloi, visiting Central Island or just climbing up a rock to look at the sunset! But who wants to go anywhere else when you can lounge by the rock pool, sit by the fire and enjoy stunning moonrises right there in camp? All the staff were really helpful and Lepatoiye proved to be an excellent cook. I can't wait to go back again!"

Jeske, Nairobi
"A fantastic camp tucked away in paradise! I have seen the camp evolve and grow into a proper classic rustic luxury safari camp. The staff are wonderful and the chief chef is excellent. You can't beat the sundowners and star gazing at Koros. A gem for birdwatchers too. Looking forward to being there again soon."

Bijal, Nairobi
Rates
Standard rental rate – ksh 42,500 per night for up to 10 guests
Conservancy fee Ksh 1,500 (Residents), Ksh 2,000 (Non-residents) per day, children at 50%
The camp is rented on a 'self catering' basis including the services of chef and staff – guests need to bring food supplies and drinking water
These rates, terms and conditions are valid for stays up until 31st December 2020
Please contact us to make a booking
Please familiarise yourself with all our terms & conditions when making a booking
Availability Calendar
Please click through and refresh the calendar in order to see the most up-to-date availabilities