Tapendoi Farm, Laikipia
A beautifully-furnished and exceptionally welcoming 5-bedroom family home, Tapendoi Farm sits in 120 private acres and enjoys wonderful views across the forests and peaks of the Lolldaiga Hills. It is the perfect setting for a civilised break in the bush and an elegant base from which to explore and experience all the wonderful local scenery and wildlife.
"Thank you for allowing us to stay at your wonderful house – it was like landing in heaven!  The interiors are so beautiful and comfortable and there is such incredible attention to detail around every corner.  Thank you to the amazing staff – Theresa and co are just so kind.  We also adored Dudu the dog!"  

CB, UK
Tapendoi Farm adjoins the southern boundary of the Lolldaiga Hills ranch and conservancy – 49,000 varied, dramatic and uncrowded acres just 20 kilometres northwest of Mount Kenya, with the main access gate around 30 minutes' drive from Nanyuki and a short distance from the house.
A well-managed combination of commercial livestock ranching and wildlife conservation, the Lolldaigas attract a very wide variety of animal and birdlife, and house 4,500 head of cattle, sheep and camels. Despite their relative proximity to the more populated and widely visited areas of Laikipia, the Lolldaigas feel remote, untouched and firmly 'off the beaten track'.
The Lolldaigas are home to large herds of Elephant and Buffalo, together with Lion, Leopard, Cheetah, Giraffe, Hartebeest, Oryx, Eland, Grevy's Zebra and Wild Dog among many other species. With such varied topography, landscapes and habitats, the conservancy's roads range across hilltops, up and down steep valleys, around dams and across open plains, ensuring that game drives and excursions are always diverse, scenic and rewarding.
Ranging in altitude from 1700 to 2300 metres, the Lolldaiga Range is an ancient land form, comprising of a series of magnificent high folding hills, cedar forests and wooded valleys, interspersed with open savannah grassland and bush.
A well-documented series of archaeological finds, cave paintings and burial mounds show that the area was home to early mankind several thousand years ago. Over the last five centuries the region has been inhabited by the nomadic Laikipia Maasai, from whose language the name "Lolldaiga" comes, "Daiga" meaning braid.
Entrance to the Lolldaigas and game drives in the conservancy are strictly by prior arrangement and at additional cost.  A 4wd and high-clearance vehicle is a must. At certain times of year the conservancy may be closed due to British Army training exercises. For further information on rates and dates and terms & conditions please contact the conservancy well in advance of your stay – email [email protected]
Summary
A sprawling and sophisticated private safari retreat in a spectacular location
Lovely, spacious and versatile accommodation with multiple living and dining areas
Decorated and furnished with taste and style, filled with books and art
Swimming pool and pool house with sitting area, dining room and bar
Ideally situated beside the main gate of the beautiful uncrowded Lolldaigas
Explore other nearby conservancies including Ol Pejeta and the Ngare Ndare Forest
Enjoy the services of a capable and experienced team of staff and good cook
Accommodates up to 10 guests in 5 double / twin bedrooms
From Ksh 60,000 per night for up to 6 guests 'self-catering' with staff
Detailed information
Drawing room / dining room with fireplace
Sitting room / playroom with television and fireplace
Roomy and well-equipped eat-in kitchen
Spacious wrap-around verandas and terraces
Outside sitting room with fireplace
Outside dining table and sitting and lounging areas
Swimming pool and pool house with sitting area, dining table and bar
Three double bedrooms – one with an additional toddler bed
One twin bedroom (interconnects with a double bedroom and bathroom)
One 'loft' bedroom with two double beds – ideal for older children
Three extra-spacious family bathrooms with showers and baths
Complimentary Cinnabar Green bathroom products
Well-maintained gardens and 120 acres of farmland to explore
Farmyard with cows and chickens – popular with children
Gas barbecue
Firewood supplied
Wi-fi internet
Reasonable cell-phone signal
Trampoline, sandpit play area
Children's books and toys, high chair, travel cot
Smoke detector
Fire extinguisher
First aid kit
Location
Laikipia
Situated to the Northwest of Mount Kenya, the Laikipia plateau is one of Africa's most exciting and exclusive wilderness safari destinations – combining abundant wildlife, spectacular scenery, extraordinary cultural and bio-diversity, some of East Africa's most successful nature and game conservancies – and a complete absence of package tourism.
The 'Laikipia experience' comes largely free of the constraints that often apply in Kenya's national parks and reserves. Activities such as night game drives, nature walks, bike tours, horse-riding and camel treks – prohibited in most parks – are just some the exhilarating pursuits on hand in the extensive private reserves and game conservancies that make up much of the region.
Laikipia hosts a wealth and diversity of wildlife – second only to the Masai Mara in Kenya. It has significant populations of predators and also the "Big Five", with over 50% of Kenya's black and white rhinos, thousands of elephants, about 25% of the world's Grevy Zebras, and an increasing population of rare Wild Dogs. The region is home to more endangered species than anywhere else in East Africa.
From Nanyuki and its environs there are numerous excursions , game drives and cultural visits that can be organised to neighbouring reserves, safari lodges and private ranches – such as the Lolldaiga Hills, the Ndare Ngare Forest, Ol Pejeta Conservancy, Solio Ranch and Mount Kenya National Park. Riding, climbing, trekking, flying, white-water rafting, fly-fishing, polo, golf, mountaineering and many other sports and activities are also available close by.
Nanyuki
The gateway to Laikipia and Kenya's northern territories, the busy market town of Nanyuki was founded in 1907 and still retains a distinctly old-fashioned charm. Dominated by the peaks of Mount Kenya, Nanyuki sits at 1,950 metres above sea level – making it one of the 15 highest towns in Africa – and the Equator runs across the main road just to the South of the town.
These days Nanyuki is home to the Kenyan Air Force and to the British Army in Kenya, and there are several good places to shop and eat in the town – recommended restaurants include Le Rustique and The Nook. At Nanyuki Airport you will find the popular Barney's restaurant and just across the road One Stop Nanyuki has a café and delicatessen. In the Cedar Mall you will find a big Chandarana supermarket and Java House café.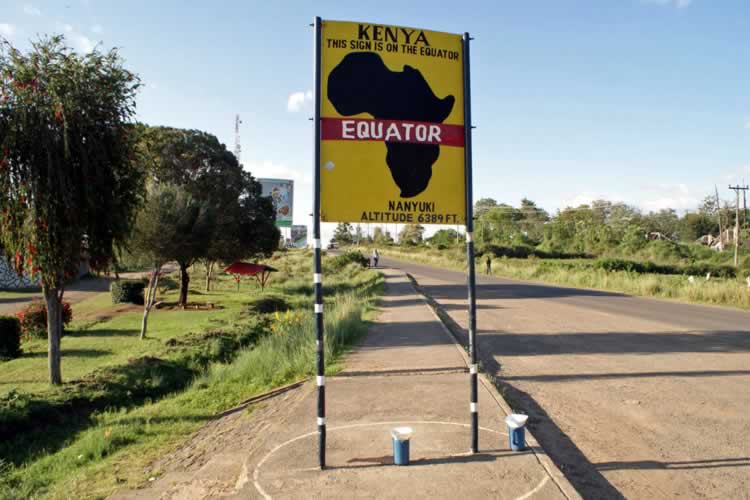 How to get there
By Road
Driving distance from Nairobi to Nanyuki is 120 miles (195 kilometres) on the main A2 road via Thika and Karatina – the road is good and the journey should take 3-4 hours.
Tapendoi Farm is about 15km northeast of Nanyuki by road.  The drive from Nanyuki should take about 30 minutes and we can supply guests with detailed directions to the farm.  A high clearance or 4wd vehicle is recommended.
By Air
Nanyuki's airport sits just to the south of town and there are daily scheduled flights to and from Nairobi on the following airlines –
Flights from Nanyuki also connect with the Masai Marai, Samburu National Park, Lewa Downs and other safari destinations in northern Kenya – please check with the airline for details.
Visitor's Book
"Thank you for allowing us to stay at your wonderful house – it was like landing in heaven! The interiors are so beautiful and comfortable and there is such incredible attention to detail around every corner. Thank you to the amazing staff – Theresa and co are just so kind. We also adored Dudu the dog!"
– CB, UK
Rates
Standard Accommodation Rates
Up to 6 guests in 3 bedrooms – Ksh 60,000 per night
Up to 8 guests in 4 bedrooms – Ksh 80,000 per night
Up to 10 adult guests plus 2 children in 5 bedrooms – Ksh 100,000 per night
Minimum stay – 2 nights
Preference is given to bookings of 3 nights or more
Christmas & New Year
Up to 10 adult guests plus 2 children – Ksh 150,000 per night
Minimum stay over Christmas & New Year – 5 nights
Maximum occupancy year-round – 10 adult guests plus two children
Driver and ayah accommodation – ksh 2,000 per person per night – please confirm ahead of your stay
Additional accommodation for up to 4 guests is occasionally available at the nearby Tapendoi Cabin at additional cost – please contact us for details
Check-in from 3pm and Check-out by 10 am
All stays are on a 'self-catering' basis including the services of cook and team of staff
Guests are responsible for supplying and purchasing all their own food and drink – shopping is available by prior arrangement and at additional cost
The swimming pool is unfenced and there are steep slopes and drops in and around the property. Children must be closely supervised around the pool by an adult guest and should never be left unattended in any part of the property at any time.
The property shares an unfenced boundary with a wildlife conservancy and wild animals may occasionally come onto the property.  Guest walks around the property must always be accompanied by a member of staff and are undertaken at guests' own risk.
Please contact us to make a booking
Please familiarise yourself with all our terms & conditions when making a booking
Bookings can only be confirmed upon receipt of payment. Until a booking is confirmed, availability is subject to change without notice.
The owners require all adult guests to sign an indemnity form on arrival at the house
These rates, terms and conditions are valid for stays up until 10th January 2024
Availability Calendar
Please click through and refresh the calendar in order to see the most up-to-date availabilities