Olohoro Onyore, Champagne Ridge, Nairobi
Escape from the city and enjoy peace, tranquillity and magnificent views at this stunning and spacious new Rift Valley retreat. Sleek and stylish Olhoro Onyore sets new standards for Champagne Ridge houses and makes for a really memorable getaway.
"This place is setting a new benchmark for Nairobi and surroundings. Fantastic sunsets, a chef that can make anything from your ingredients and the house itself is well designed and decorated. A very nice get-away from the city."

Jan-Paul, Nairobi
"This house is an incredible getaway and well worth the money. The staff were very attentive and always available. The three separate buildings were spacious and provided plenty of privacy. Highly recommended for anyone visiting Champagne Ridge."

Joe, USA
"An amazing place to stay and relax! The view and environment are breathtaking. We loved the house and the staff and definitely will be back again very soon."

The Mackrorys, Nairobi
"A fantastic weekend getaway – but two nights is definitely not enough. Thank you to everyone – Peter and Stellah and co – for being so accommodating. Asante Sana!"

K & B, Nairobi
"Absolutely stunning!! Great hospitality. The views are incredible. What a wonderful place to escape from Nairobi!"

Jay, Nairobi
"We loved our stay at Olohoro Onyore. The place is so beautiful and it is such a well-kept secret. We will definitely try another retreat with you."

Kate, Nairobi
"We had such a lovely weekend at Olohoro Onyore. It is an absolutely fantastic spot to spend time unplugged with friends and family, with incredible views of the Rift Valley."

Andrew, Nairobi
"Our stay was simply MARVELLOUS! We really enjoyed the house and the help form the housekeepers. Stephen and Marvin are additionally marvellous chefs! We will for sure be back."

Joanna, Nairobi
"Olohoro Onyore is a great place to relax and chill out in a beautiful house not far from Nairobi. The staff were very friendly, helpful and welcoming. We are definitely recommending it to others."

Iain, Nairobi
We had a really great & relaxing weekend at Olohoro Onyore in the care of Stephen, Peter and the team. The scenery was beautiful & breathtaking. The house was very clean and tastefully decorated. The meals were delicious and even the hike down the hill was challenging but refreshing! We had an amazing time and everything was seamless from booking to planning, arrival to departure. Thank you – we would definitely recommend it and return again."

Kristin, Nairobi
Summary
The perfect relaxing escape from Nairobi
Just over one hour from the city by car
Ideal for one or two families or a group of friends
Accommodates 6 guests in 3 ensuite bedrooms
Standard accommodation rate – ksh 28,000 per night
Detailed information
3 double bedrooms with ensuite bathrooms
Central living and dining room
Outside verandas and walkways
Well-equipped kitchen, cooker with oven
Pantry and fridge
Barbecue
Fire pit
Outside dining area
Outside pergola
Housekeeper and cook
Staff quarters available
Solar power with back-up generator
Cellphone signal (Safaricom)
Location
Situated just 20 miles (30 km) south of central Nairobi, Champagne Ridge is long spur of land looking out south and west across the Rift Valley towards Lake Magadi and the Tanzanian Border.  Quiet and peaceful, it is home to just a few private holiday houses.  Within easy reach on the road to Magadi are Olorgesailie Prehistoric Site – Kenya's most important and largest archaeological and geological site, and Olepolos Country Club – a highly regarded nyama choma joint with great views.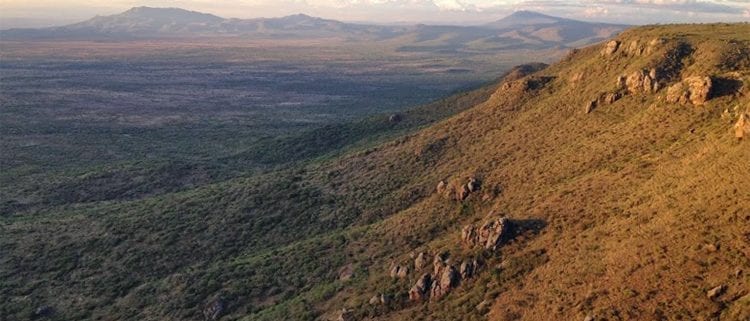 How to get there
Access to the property from Nairobi is along the C58 Magadi Road via Ongata Rongai and Kiserian. After Kiserian turn left at Corner Baridi onto the murram road which runs the length of Champagne Ridge – the property is approximately 7.5 miles (12 km) along this road. Driving time from Langata Road at Bomas of Kenya/Galleria Mall should be just over 1 hour. We can supply guests with detailed driving instructions.
Visitor's Book
"An amazing place to stay and relax! The view and environment are breathtaking. We loved the house and the staff and definitely will be back again very soon."
The Mackrorys, Nairobi
"A fantastic weekend getaway – but two nights is definitely not enough. Thank you to everyone – Peter and Stellah and co – for being so accommodating. Asante Sana!"
K & B, Nairobi
"Absolutely stunning!! Great hospitality. The views are incredible. What a wonderful place to escape from Nairobi!"
Jay, Nairobi
"We loved our stay at Olohoro Onyore. The place is so beautiful and it is such a well-kept secret. We will definitely try another retreat with you."
Kate, Nairobi
"We had such a lovely weekend at Olohoro Onyore. It is an absolutely fantastic spot to spend time unplugged with friends and family, with incredible views of the Rift Valley."
Andrew, Nairobi
"This place is setting a new benchmark for Nairobi and surroundings. Fantastic sunsets, a chef that can make anything from your ingredients and the house itself is well designed and decorated. A very nice get-away from the city."
Jan-Paul, Nairobi
"This house is an incredible getaway and well worth the money. The staff were very attentive and always available. The three separate buildings were spacious and provided plenty of privacy. Highly recommended for anyone visiting Champagne Ridge."
Joe, USA
"Our stay was simply MARVELLOUS! We really enjoyed the house and the help form the housekeepers. Stephen and Marvin are additionally marvellous chefs! We will for sure be back."
Joanna, Nairobi
"Olohoro Onyore is a great place to relax and chill out in a beautiful house not far from Nairobi. The staff were very friendly, helpful and welcoming. We are definitely recommending it to others."
Iain, Nairobi
We had a really great & relaxing weekend at Olohoro Onyore in the care of Stephen, Peter and the team. The scenery was beautiful & breathtaking. The house was very clean and tastefully decorated. The meals were delicious and even the hike down the hill was challenging but refreshing! We had an amazing time and everything was seamless from booking to planning, arrival to departure. Thank you – we would definitely recommend it and return again."
Kristin, Nairobi
Rates
Standard accommodation rate – ksh 28,000 per night for up to 4 guests, ksh 36,000 per night for 5-6 guests 'self catering' with chef and housekeeper
Preference is given to bookings of 2 nights or more, 1 night bookings are occasionally available at ksh 37,500
Christmas, New Year and Easter rental rate – ksh 39,500 per night – minimum stay 3 nights
All stays are on a 'self catering' basis – including the services of cook and housekeeper
Maximum capacity – 6 guests
The house is not suitable for small children of 6 or under due to steep slopes and drops outside
Check in from 3 pm – Check out by 12 noon
These rates, terms and conditions are valid for stays up until 3rd January 2024
The owners require all guests to sign an indemnity/disclaimer form on arrival at the property
Please contact us to make a booking
Please familiarise yourself with all our terms & conditions when making a booking