Deloraine, Nakuru
One of Kenya's grandest and most historic houses, elegant and welcoming Deloraine dates back over 100 years and is now available for exclusive-use, fully-catered, owner-hosted stays. The perfect place for gatherings of family and friends, the extensive and beautiful grounds and wealth of fun outdoor activities make it a wonderful destination for children of all ages.
"Absolute luxury, beautiful bedrooms, incredible food, wonderful company. This is the most beautiful house and I couldn't fault it. We stayed for two nights and had a wonderful ride, swam in the most beautiful pool, wandered an incredible garden and ate like Kings and Queens. Cindy was the most marvellous host who knew all the answers to all our eager questions! I would recommend Deloraine without any hesitation."

Becky, UK
Deloraine House was built in the 1920s by Lord Francis Scott, a prominent early settler, and is one of the grandest remaining examples of colonial architecture in Kenya as well as a much-loved family home.  The extensive estate and farm sit on the lower slopes of Londiani Mountain, a forest and bamboo-shrouded extinct volcano on the western edge of the Great Rift Valley.
The accommodation at Deloraine is grand and imposing yet comfortable and unpretentious, the atmosphere always fun and hospitable.  On the Ground Floor are a high-ceilinged drawing room, dining room, library and two bedrooms and bathrooms, with three further bedrooms and bathrooms on the First Floor. Extensive upstairs and downstairs verandas filled with sofas, armchairs, good books and games look out across the lovely mature gardens. There are three further bedrooms in the Garden Cottage just next door
The perfect place for a family get-together or traditional house party weekend, guests can set their own agenda and choose to be as busy or as relaxed as they prefer. There are plenty of activities and amenities on hand to occupy more energetic guests including swimming pool, tennis court and croquet lawn. There are lovely walks around the estate and surrounding forest and countryside, and the birdwatching is excellent. Children love to explore the farm with its chickens, ducks, donkeys, sheep, cows and more.
"Wow, what can I say, nothing prepared us for the stunning Deloraine House!  We just wish we had spent much longer there. Just taking in the ambiance of such a historical place with the beautiful mature gardens and lovely swimming pool really allowed us to wind down. The staff were exceptional and the food that kept being produced would rival any London restaurant! Visiting Lake Nakuru National Park was a highlight and the flamingos were unforgettable… then again riding up the mountain and trying our hand at polo were also pretty unforgettable…we will be back!"

The Saunders family, UK
Horse riding is a major focus at Deloraine, which is the headquarters of the Offbeat Safaris riding safari operation. The yard and stables, with approximately 80 horses, boast a string of some of the finest polo ponies in Kenya. There is an active breeding programme and the majority of the horses are home-bred from ex-polo mares.
Guests are encouraged to ride around the farm and the nearby mountain provides spectacular views across the whole Rift Valley. There is also a cross-country course and full-size polo ground. A ride into the Koibatek Forest to search for elusive black & white Colobus monkeys is a must for both novice and more experienced riders, and there are horses to cater for every level of ability.
Main House Bedrooms (5)
Room 1.  This downstairs twin bedroom has views over the flower garden. Comfortably accommodating two guests in twin beds, it has an ensuite bathroom with shower.
Room 2.  This bedroom is downstairs with views over the flower garden.  It is a very spacious double / quadruple bedroom with a double bed and two separate single beds, and a bathroom (bath and shower) across the corridor.
Room 3.  This bedroom is upstairs with views out to the veranda and garden beyond.  It is a very spacious double / triple room, with double bed and a separate single, and it can also be configured with three single beds. The ensuite bathroom is accessed from the outside balcony (bath only and separate loo).
Room 4.  The Red Room is upstairs with views out over the veranda and garden beyond. It is a spacious double / triple room (king sized bed and separate single) with ensuite bathroom (bath only).
Room 5.  The Blue Rom is upstairs with views out to the croquet lawn. This is a spacious and newly-renovated double / quadruple room with a king-size double bed and two separate single beds and ensuite bathroom (bath only).
Cottage Bedrooms (3)
The Garden Cottage is adjacent to the Main House and has three bedrooms overlooking the garden – two doubles and one twin room.  The rooms are simpler in style and smaller than the bedrooms in the Main House.
Room 6.  A double bedroom with king-size bed.  Its private bathroom is accessed along the veranda outside (shower only).
Room 7.  A  twin / double bedroom.  The shared bathroom is accessed along the veranda outside (shared with one room, bath only).
Room 8.  A twin bedroom.  The shared bathroom (bath only) is accessed along the veranda and is shared with Room 7.
Summary
A magnificent country house and 3500-acre estate dating back to early colonial times
Refined and expansive accommodation harking back to a bygone age
A centre for equestrian safaris and home to over 70 horses, horse riding is included in your stay
Also included – swimming pool, tennis court, croquet, farm and forest walks, farm activities
Managed and hosted with warmth and efficiency by the Voorspuy family
Delicious and imaginative home cooking with fresh produce from the farm
Accommodates up to 14 guests – and some additional children – in 5 bedrooms in the main house and 3 bedrooms in the adjoining cottage
Exclusive-use, full-board stays from ksh 270,000 per night for up to 10 guests
Location
Deloraine is located 200 km / 125 miles north west of Nairobi on the border of Nakuru County and Baringo County. It sits at an altitude of 6000 feet on the Western edge of the Great Rift Valley on the lower slopes of Mount Londiani, an extinct volcano with a bamboo-shrouded crater. Deloraine is 35 km / 22 miles beyond Nakuru and within easy drive of Lake Nakuru National Park, famous for its flamingos, rhino, a host of other game and 450 species of bird.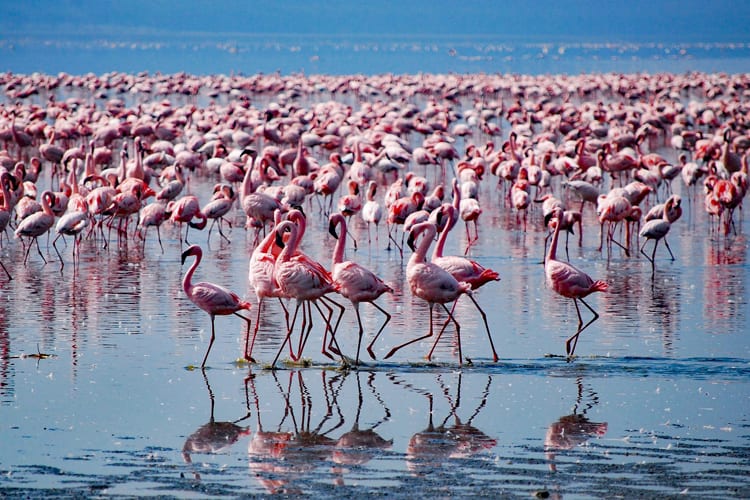 How to get there
By car – Deloraine is approximately 4 hours drive from Nairobi via Nakuru on the main A104 highway and is just 10 minutes' drive from the main road.
By air – private flights may land at the Gogar airstrip which is a few minutes' drive from Deloraine.
Visitor's Book
"Absolute luxury, beautiful bedrooms, incredible food, wonderful company. This is the most beautiful house and I couldn't fault it. We stayed for two nights and had a wonderful ride, swam in the most beautiful pool, wandered an incredible garden and ate like Kings and Queens. Cindy was the most marvellous host who knew all the answers to all our eager questions! I would recommend Deloraine without any hesitation."
Becky, UK
"An amazing stay as always – thank you Cindy and Megan for going beyond the call of duty. Our children have run wild and probably traumatised your chickens for ever! We have eaten like kings, slept like princesses and giggled like teenagers. We loved everything especially the riding and swimming in the dam. We can't wait to come back!"
H&N, Nairobi
"Wow, what can I say, nothing prepared us for the stunning Deloraine House! We just wish we had spent much longer there. Just taking in the ambiance of such a historical place with the beautiful mature gardens and lovely swimming pool really allowed us to wind down. The staff were exceptional and the food that kept being produced would rival any London restaurant! Visiting Lake Nakuru National Park was a highlight and the flamingos were unforgettable… then again riding up the mountain and trying our hand at polo were also pretty unforgettable…we will be back!"
The Saunders family, UK
Rates
Standard Accommodation Rates – (4th Jan to Easter and end of Easter to 20th Dec)
Exclusive-use, full-board stays – ksh 270,000 per night for up to 10 guests
Additional guests – to a maximum occupancy of 14 adults (and some additional children by arrangement)
Adults – ksh 25,000 each per night
Teenagers – ksh 18,000 each per night
Children – ksh 12,500 each per night
Infants 3 and under stay free of charge
Minimum stay – 2 nights
Easter, Christmas & New Year Rates (21st December and 3rd January)
Stays over Easter and from 21st December and 3rd January – ksh 320,000 per night for up to 10 guests
Minimum stay – 3 nights
These rates include exclusive use of house and grounds, all meals, soft drinks, water, tea & coffee
Please bring your own alcoholic drinks – there is no corkage fee.
Also included – tennis court, croquet, swimming pool, laundry, walking on the farm and in the forest, farm activities
Also included – horse riding and friendly polo
Horse-riding and/or polo lessons – ksh 5,000 per person per hour
Ayah/Driver Accommodation is available for Ksh. 2,000 per person per night inclusive of food and board
Additional lunches – ksh 3,000 per adult and ksh 2,000 per child
The owners require all adult guests to sign and indemnity / disclaimer form on arrival
These rates are for Kenyan residents and citizens – please contact us for non-resident rates
These rates, terms and conditions are valid for stays up until 3rd January 2024
Please contact us to make a booking
Please familiarise yourself with all our terms & conditions when making a booking