The Oaseas, Che Shale Bay, Mambrui
A lovely, unique and imaginatively-designed private home, The Oaseas sits beside 5 miles of unspoilt sandy beach on beautiful Shale Bay. Peace, seclusion and relaxation are guaranteed here – with all the attractions of Malindi less than 30 minutes away..
Set among palm trees at the end of a coastal path paved with coconut husks, The Oaseas sits in secluded tropical gardens filled with palms and aloes and looks out onto the 5-mile expanse of Shale Bay – an unusually quiet and unspoilt stretch of golden sand.
Built out of sandy pink coral stone, this lovely rustic-chic home draws on Moroccan and Swahili influences, and has been furnished and decorated by the owner with taste and style. It enjoys stunning views of dhows sailing by and kite surfers dancing on the Indian Ocean.
"My friends and I had the most wonderful time at The Oaseas – the house is stunning and has a great feel to it – it was pure luxury and we were totally pampered by the attentive and exceptionally friendly staff – great cuisine and beautiful long walks along one of Kenya's most unspoilt beaches. We can't wait to go back."

Dee, Nairobi
A sparkling 14-metre pool fills the central courtyard and is overlooked by four spacious ensuite bedrooms, cloistered open-plan living, lounging and dining areas, roof terraces and kitchen/bar. Day and night one can swim here and commune with the sun, moon and stars in luxurious privacy.
Local fishermen bring their catch to the back door and just along the beach one will find the laid-back Che Shale Lodge – famous for its kite-surfing, water sports and excellent restaurant and bar. Also close by is Barefoot Beach Camp – another low-key place to stay and eat – it also has delicious cuisine.
"Kenya was a delightful surprise – most of all staying in your house in Malindi – it is of a charming sophisticated simplicity in the décor and subtle details. My friends and I were rewarded, as if on demand, with a full moon reflecting in the courtyard swimming pool. It was really very special to be on such an unspoilt beach with beautiful sunsets. Please thank your very friendly and helpful staff."

Leo
Just 25 minutes north of Malindi airport, The Oaseas is far enough away from the bustling town to feel remote and utterly relaxed and refreshing, but close enough to easily access shops, boutiques cafes and restaurants
Summary
A charming, off-the-beaten-track house in an idyllic setting
Swahili/Moroccan furnishings and bohemian-chic style
14-metre courtyard swimming pool
Set within 2 acres of tropical gardens
Direct access to the beautiful wide sands of Shale Bay
Kite surfing and other water sports available nearby
Accommodates up to 8 guests in 4 double ensuite bedrooms
From Ksh 50,000 per night for up to 8 guests
Detailed information
Upstairs master bedroom suite with ensuite bathroom
3 ground floor double bedrooms with ensuite bathrooms
14-metre courtyard swimming pool (filtered salt water)
Multiple living and lounging and dining areas – upstairs and down
Ground floor open-plan kitchen and bar
Separate external kitchen – if greater privacy is required
Rooftop pergolas with hammocks and sitting areas
2 acres of gardens and grounds – direct access to beach
4 staff – cook, housekeepers, night watchman
Wi-fi internet
Good cell phone signal
Solar power and hot water
Eat in – or out at nearby Che Shale Lodge or Barefoot Beach Camp
Masseuse and Yoga instructor can be arranged with prior notice
No pets allowed
Location
The Oaseas sits on beautiful Shale Bay – 20kms north of Malindi. Part bustling coastal centre, part historic Swahili settlement and part sleepy, laid-back resort, Malindi is Kenya's second largest coastal town after Mombasa. It sits approximately half way down the Kenyan coast, close to the mouth of the Sabaki River, 120 kilometres north of Mombasa and 130 kilometres south of Lamu.
Among Malindi's main attractions are its beautiful white-sand beaches and the Malindi Marine National Park & Reserve – this, the oldest marine park in Kenya, covers 213 square kilometres of ocean and shore – with abundant brilliantly-colourful fish, organ-pipe coral, green sea-turtles and beds of Thalassia seagrass.
Visitors can also enjoy glass-bottomed boat rides, snorkelling on the coral reef, surfing, PADI diving and other water sports and activities. Malindi is also a main centre for deep sea and big-game fishing – for marlin, sailfish, tuna, sharks and many others. Malindi Sea Fishing Club is open to non-members, has an excellent bar and is a good place to find out more about the sport.
Malindi has become known for its large Italian population and the town has a number of excellent boutiques and delicatessens and places to eat. The narrow streets of the old town provide good shopping for colourful fabrics, Swahili antiques and traditional furniture, while more trendy boutiques and galleries along with cafes and supermarkets are to be found along Lamu Road. There is also a large tourist market for crafts and souvenirs. Favourite and recommended restaurants include The Old Man and the Sea, The Baby Marrow, La Rosada and The Osteria.
Often used as a trading post and port city for foreign powers, Malindi has a long and eventful history. In 1414, the town was visited by the fleet of the Chinese explorer Zheng He – Malindi's ruler responded by sending back an envoy with a giraffe as a gift for the Chinese Emperor.
Also given a warm reception was Portuguese explorer Vasco da Gama who came to Malindi in 1498 to sign a trade agreement and to hire a guide for his voyage to India – he erected a large coral pillar on the seafront which stands to this day. In 1499 the Portuguese established a trading post in Malindi and the town remained the centre of Portuguese activity in East Africa until 1593 when they moved their main base to Mombasa.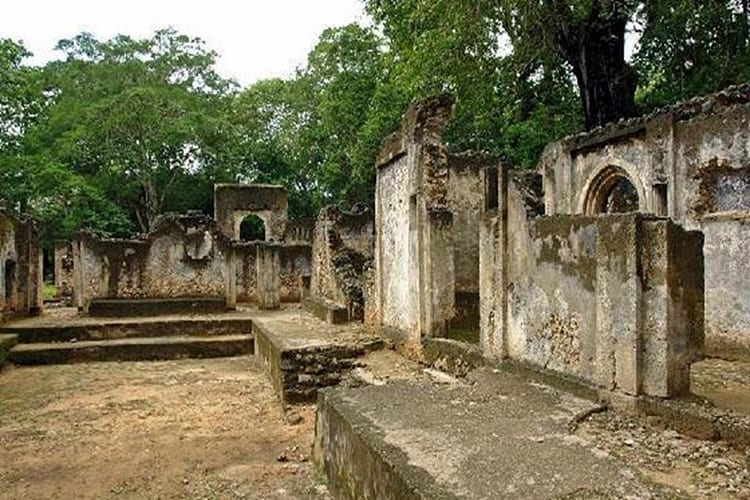 To the south of Malindi the Gedi Ruins are the ancient remains of a substantial Swahili Arab town dating from the 12th Century. Once a thriving and well-planned community of at least 2500 people, with a magnificent palace, several mosques and many large stone houses, the people of Gedi grew rich on trade with India, China and Europe, but the town was mysteriously abandoned in the 17th Century. Malindi also went into decline in the 17th and 18th Centuries, but the town began to prosper again in the 19th Century as a centre of the slave trade under Sultan Majid of Zanzibar.
Just north of Malindi and a few miles inland close to the village of Marafa is the picturesque 'Hell's Kitchen' – Malindi's answer to The Grand Canyon – a dramatic series of rock formations and gorges. The 4,300-hectare Arabuko-Sokoke Forest Reserve is situated to the South West of the town and is the largest single block of indigenous coastal forest remaining in East Africa – it forms the centrepiece of a world-renowned habitat for rare and endangered mammals and birds.
How to get there
By Air
The Oaseas is around 25 minutes by taxi from Malindi airport – it can be accessed by 2-wheel drive car.  Malindi airport has several scheduled flights each day to and from Nairobi. Some flights also arrive or depart via Mombasa or Lamu.
Airlines serving Malindi and Nairobi include –
By Road
Malindi is situated on the main B8 coastal highway and the driving time from Mombasa should be less than two hours. Driving time from Nairobi is around nine hours via Mombasa.
Driving to and from Nairobi, it is also possible to bypass Mombasa and to travel through Tsavo East National Park on the picturesque C103 Road which follows the route of the Galana River, or from Mariakani on Mombasa road to Kilifi on the new C107.
Visitor's Book
"My friends and I had the most wonderful time at The Oaseas – the house is stunning and has a great feel to it – it was pure luxury and we were totally pampered by the attentive and exceptionally friendly staff – great cuisine and beautiful long walks along one of Kenya's most unspoilt beaches. We can't wait to go back."
Dee, Nairobi
"Kenya was a delightful surprise – most of all staying in your house in Malindi – it is of a charming sophisticated simplicity in the décor and subtle details. My friends and I were rewarded, as if on demand, with a full moon reflecting in the courtyard swimming pool. It was really very special to be on such an unspoilt beach with beautiful sunsets. Please thank your very friendly and helpful staff."
Leo
Rates
Standard rate – Ksh 50,000 per night for up to 8 guests (8th January 2023 to 19th December 2023)
Minimum stay – 3 nights
Please contact us for discounted rates for smaller parties and longer stays
Christmas & New Year – US$800 per night (20th December 2023 to 7th January 2024)
Minimum stay – 7 nights
Minimum stay if including both Christmas & New Year – 10 nights
All rentals are on a 'self-catering' basis including the services of chef and staff – guests should bring their own food and drink
Shopping service available at additional cost – please contact us for further information
Airport transfers available at additional cost – please contact us further information
Check in – 2pm, Check out – 10 am
The owners require all adult guests to sign an indemnity / disclaimer form on arrival
These rates, terms and conditions are valid for stays up until 7th January 2024
Please contact us to make a booking
Please familiarise yourself with all our terms & conditions when making a booking
Availability Calendar
Please click through and refresh the calendar in order to see the most up-to-date availabilities