Dhow House, Shela, Lamu
A glamorous, luxurious and expansive private retreat tucked away in a quiet position on the fringes of sophisticated Shela, the Dhow House is a stylish and secluded sanctuary with all the attractions of village and beach just a few minutes stroll away
"A spectacular private villa and perhaps the chicest beach house in Africa, this seven-bedroom home is generously proportioned, comfortably accommodating 14 people in airy and sunshine-flooded rooms. Tasteful accents throughout the house reflect both the owner's eclectic style and Lamu's exotic history. The gardens are stuffed with palm trees, hibiscus and flat-topped acacias, with a tamarind tree providing the fruit for fresh juices every morning."

Departures Magazine
"Shela's Dhow House overlooks the sea and is fronted by a beautifully-designed pool and its whitewashed exterior is dominated by a charmingly quirky turret. Stone floors, ornately carved furniture, sunken seating areas, shuttered openings and carefully-chosen pieces of art are all arranged to make maximum use of Lamu's light, and the accommodation works for families or groups of friends alike."

Harper's Bazaar
Summary
A gorgeous hideaway designed and furnished in opulent style
Elegant and dramatic inside and outside living & entertaining areas
Perfect for a serene and luxurious break at the beach
Dazzling 13-metre swimming pool and lush tropical gardens
Rooftop massage and yoga room, multiple al-fresco terraces and verandas
Direct private access to Shela seafront and beach
Accommodates up to 14 guests in 7 ensuite bedrooms
From $1,200 per night for up to 10 resident guests 'self-catering' with chef and staff
Location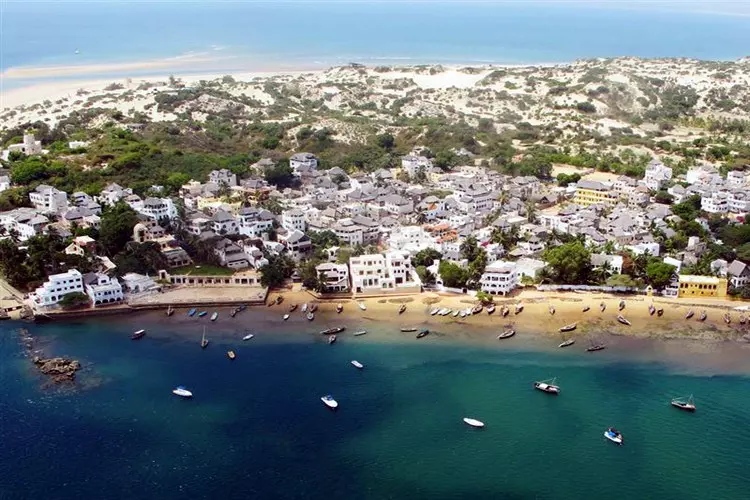 Dhow House sits less than 50 metres from the seafront in Shela Village, near a traditional dhow-building workshop and close to the eastern tip of Lamu Island. The island's main beach is just a few minutes' stroll from the house, as are Peponi Hotel and the other attractions of the village. Lamu Town is two miles north of Shela, and Manda Island and its airport are just a short boat ride away across the Lamu channel.
How to get there
Lamu is best accessed by air and there are usually several scheduled flights per day to and from Nairobi. Some flights also arrive or depart via Malindi. Airlines serving Lamu include :
Visitor's Book
"A spectacular private villa and perhaps the chicest beach house in Africa, this seven-bedroom home is generously proportioned, comfortably accommodating 14 people in airy and sunshine-flooded rooms. Tasteful accents throughout the house reflect both the owner's eclectic style and Lamu's exotic history. The gardens are stuffed with palm trees, hibiscus and flat-topped acacias, with a tamarind tree providing the fruit for fresh juices every morning."
Departures Magazine
"Shela's Dhow House overlooks the sea and is fronted by a beautifully-designed pool and its whitewashed exterior is dominated by a charmingly quirky turret. Stone floors, ornately carved furniture, sunken seating areas, shuttered openings and carefully-chosen pieces of art are all arranged to make maximum use of Lamu's light, and the accommodation works for families or groups of friends alike."
Harper's Bazaar
Rates
Special Kenyan Resident Rates Offer
$1,200 per night for up to 10 guests 'self-catering'
$1,500 per night for up to 14 guests 'self-catering'
Minimum stay – 3 nights
Preference is given to stays of 5 nights or more
Non-Resident Rates and Christmas & New Year Rates – please contact us
Minimum stay over Christmas & New Year – 10 nights
Rentals are on a 'self-catering' basis including the services of the chef and team of staff
Check in from 3pm, Check out by 10am
Maximum occupancy – 14 guests including children/infants
These rates, terms and conditions are valid for stays up until 11th January 2024
The owners require all adult guests to sign an indemnity / disclaimer form on arrival
The swimming pool is unfenced.  Children must be closely supervised around the pool by an adult guest and should never be left unattended in any part of the property at any time.
Please contact us to make a booking
Please familiarise yourself with all the terms & conditions on our website when making a booking
Bookings can only be confirmed upon receipt of payment.  Until a booking is confirmed, availability is subject to change without notice.
Availability Calendar
Please click through and refresh the calendar in order to see the most up-to-date availabilities