Chongolulu House, Mtwapa
A lovely, spacious, traditional and excellent-value 5-bedroom holiday home, tucked away in five leafy beachfront acres with fantastic views across Mtwapa Creek, Chongolulu is private and secluded, has an excellent team of staff and makes a delightful coastal retreat for one or two families
"Chongolulu is simply a fantastic place to relax. The location on the creek was amazing – the kids enjoyed the beach and the views are superb. The team at the house are great – they looked after us very well, including cooking the fish that we caught. The rooms are comfortable and the house is very spacious."
"Your place is wonderful. This was our second stay and we enjoyed every moment. Everything is wow -.the peaceful set-up, the serene environment and the lovely jetty which allows you to dive into the ocean in style. A big thank you to the amazing Steven and Juma – they are the best! We look forward to the next time."
"Beautiful location, very welcoming staff, ample space and lovely facilities. Stephen prepared very tasty food while Juma took good care of us around the home and Kahindi kept the grounds looking immaculate at all times. The children had such a wonderful time running around playing and swimming all day. Honestly this was the best holiday I have had in a very long time. We will definitely be back."
"Such a beautiful house, very very neat, vintage with a touch of modern and absolutely comfortable. The service was that of a five star hotel – not forgetting the ocean view and a beach of our own! It was amazing. We will definitely come back as well as recommend Chongolulu to our friends."
Summary
A bright, comfortable, charming and airy beach villa
Classic, calm, well-equipped, scenic and relaxing
Lush tropical gardens with baobabs, palms, bougainvillea and frangipani
Swimming pool, 100 metres of white sand beach
40-metre private jetty onto Mtwapa Creek
All the attractions of Mtwapa, Nyali and Mombasa are within easy reach
Includes the services of the experienced and welcoming Chongolulu team
Accommodates up to 10 guests in 5 double / twin bedrooms
From Ksh 40,000 per night 'self-catering' with excellent chef and housekeeper
Detailed information
Inside
Two double and three twin bedrooms
Four bathrooms – two ensuite
Living room with sitting and dining areas
Ground floor office
Spacious veranda with dining table, living area and day beds
Upstairs veranda with relaxing Lamu chairs
Shady covered walkways
Well-equipped kitchen
Chef, housekeeper, gardener, night askari
Wi-fi internet
Outside
10 x 10 metre swimming pool
5 acres of gardens and grounds
100 metres of beach front
40-metre jetty and pontoon onto the creek
Garden chairs, tables and sun loungers
Outside dining table and pergola
Location
Mtwapa
Chongolulu house is quietly situated on the southern shore of Mtwapa Creek, 1500 metres from Mtwapa bridge and the main Mombasa-Kilifi B8 coastal road and 500 metres from the mouth of the creek and the Indian Ocean. Central Mombasa is around 15 kilometres to the south and Kilifi around 35 kilometres to the north. Vipingo Ridge airstrip is around 15 kilometres to the north.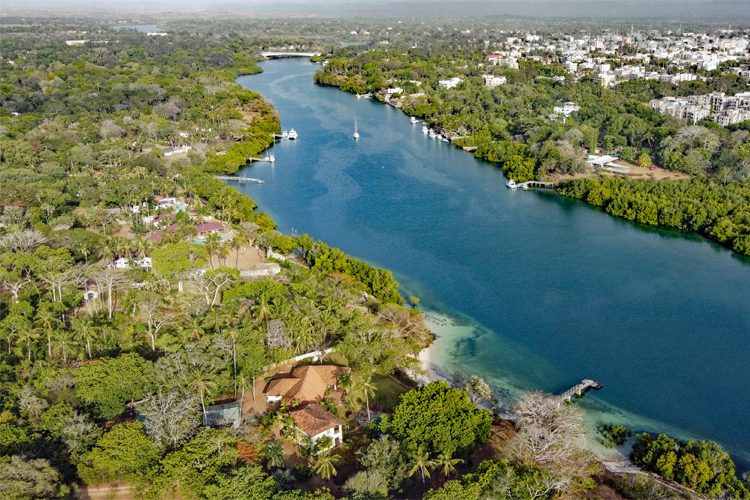 There are plenty of local shops and services in Mtwapa town about 2 km to the north and these include a Quickmart supermarket. A wider range of upmarket shops, including large Naivas and Carrefour supermarkets are found in Nyali around 10 km to the south. Watersports, boat trips and sea fishing trips are available locally and most boats will pick guests up from the house jetty. Diving and snorkelling can be done from the nearby Serena Beach Hotel.
How to get there
By Road
Mtwapa is about 30 minutes' drive from Mombasa to the south and around 1 hour from Kilifi to the north. Driving time from Nairobi to Mtwapa should be around 7 hours.
By Air
There are daily flights on ALS from Nairobi's Wilson Airport to the airstrip at Vipingo Ridge which is about 30 minutes away by road from Mtwapa www.flyals.com
Mombasa's Moi International Airport is about 45 minutes' drive from the house – allow longer.  Airlines flying to Mombasa from Nairobi include :–
Visitor's Book
"Chongolulu is simply a fantastic place to relax. The location on the creek was amazing – the kids enjoyed the beach and the views are superb. The team at the house are great – they looked after us very well, including cooking the fish that we caught. The rooms are comfortable and the house is very spacious."
"Your place is wonderful. This was our second stay and we enjoyed every moment. Everything is wow -.the peaceful set-up, the serene environment and the lovely jetty which allows you to dive into the ocean in style. A big thank you to the amazing Steven and Juma – they are the best! We look forward to the next time."
"Beautiful location, very welcoming staff, ample space and lovely facilities. Stephen prepared very tasty food while Juma took good care of us around the home and Kahindi kept the grounds looking immaculate at all times. The children had such a wonderful time running around playing and swimming all day. Honestly this was the best holiday I have had in a very long time. We will definitely be back."
"Such a beautiful house, very very neat, vintage with a touch of modern and absolutely comfortable. The service was that of a five star hotel – not forgetting the ocean view and a beach of our own! It was amazing. We will definitely come back as well as recommend Chongolulu to our friends."
Rates
Standard Accommodation Rates
Ksh 40,000 per night
Minimum stay – 3 nights
Christmas & New Year
Ksh 75,000 per night
Minimum stay – 7 nights
Check-in from 3pm and Check-out by 10
Maximum occupancy – 10 guests
All stays are on a 'self-catering' basis including the services of chef and staff. Guests are responsible for purchasing and supplying all food and drink.
The swimming pool and jetty onto the creek are unfenced. Swimming in the pool and ocean is at guests' risk. Children must be closely supervised around the pool by an adult guest and should never be left unattended in any part of the property at any time. Please do not feed the monkeys on the plot.
Please contact us to make a booking
Please familiarise yourself with all our terms & conditions when making a booking
Bookings can only be confirmed upon receipt of payment. Until a booking is confirmed, availability is subject to change without notice.
The owners require all adult guests to sign an indemnity / disclaimer form on arrival
These rates, terms & conditions are valid only for bookings up until 10th January 2024
Availability Calendar
Please click through and refresh the calendar in order to see the most up-to-date availabilities