Marula Cottage, Galu Beach, Diani
A stylish and well-equipped contemporary beach bungalow with plunge pool and air-conditioned bedrooms just steps away from beautiful and quiet Galu Beach, Marula Cottage is the perfect laid-back beach retreat for one or two couples or a small family.
"We Loved it!! Our stay at Marula Cottage was simply amazing. The cottage was nothing short of gorgeous with incredible and unobstructed views of the pristine beach and open waters. Kathrin and Joe truly went above and beyond to make our stay a memorable one. We really could not ask for better hosts. Their staff were very pleasant and helpful as well. It was a real treat to stay here. We'll definitely be back!"

Victoria, Nairobi
"Truly one of the best places that I have found on the Kenyan coast. The cottage is very stylish with panorama views over the Indian Ocean. It is located on one of the best parts of the beach and away from the bigger hotels so has lots of privacy. The outside deck has a small but really nice little pool and the breeze from the ocean makes the deck a great place to hang out. The staff are lovely and the chefs were good. Joe, the owner, welcomed us very well and was very easy to communicate with prior to our arrival. I would love to come back to this place soon!"

Moa, Nairobi
"Everything about this place is perfect – decoration, location, space, view, etc. What made our stay even better was Kathrin's warm hospitality – we did not have to worry about anything. Also, the house staff were all very nice and hospitable. Dorcas, chef de cuisine, was incredibly gentle and cooked delicious breakfasts for us. All-in-all, our stay was just perfect. If you go to Diani, I definitely recommend Marula Cottage."

German, DRC
Summary
A really welcoming and attractive beachfront hideaway
Just steps away from the ocean, lovely sea-views
Air-conditioned bedrooms and refreshing splash pool
Accommodates up to 4 guests in 2 ensuite bedrooms
Can be rented with Marula House to accommodate 14 guests
All rentals include delicious breakfasts
Rentals from ksh 25,000 per night for 2 guests
Location
Beautiful Galu Beach is an extension of Diani's powder white sands but is much less busy, sometimes without a single person on it – and the beach is bigger, cleaner and quieter than Diani Beach. Diani has been voted the best beach in Africa by the World Travel Market and one of the 25 best beaches in the world by Trip Advisor. All kinds of water sports and activities are available nearby.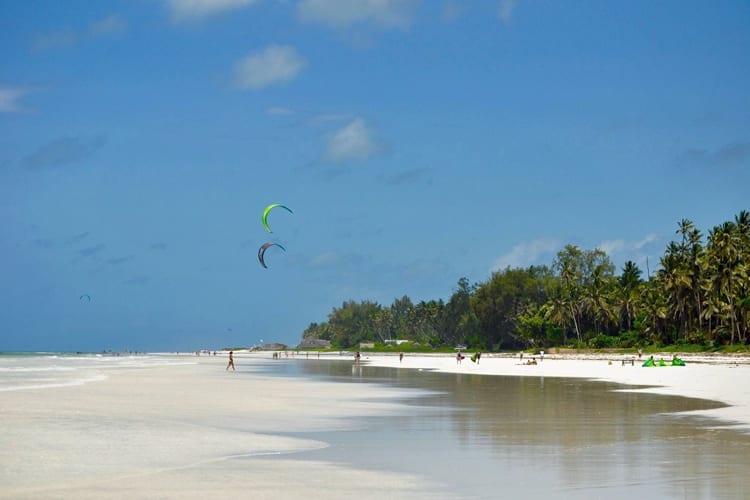 Along the beach road and within 10-15 minutes' drive there are various supermarkets and a number of banks, ATM machines and gift shops. There are a number of good places to eat and drink nearby including Sails Beach Bar & Restaurant and the Blue Marlin.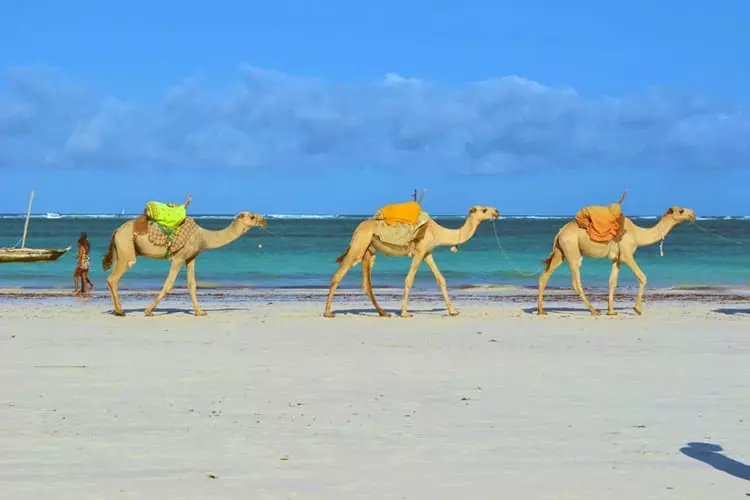 How to get there
By Air
Marula House and Cottage are just 15 minutes from Diani/Ukunda Airstrip which has several scheduled flights each day to and from Nairobi. Airlines serving Diani/Ukunda and Nairobi include :–
Marula House and Villa are approximately 55 km by road south of Mombasa Airport, which handles both domestic and international flights. Domestic airlines serving Mombasa and Nairobi include :-
By Road
Marula House and Villa are approximately 45 km south of Mombasa Island via the Likoni Ferry and the main A17 coastal road.  Please contact us for detailed directions. Driving Time from Nairobi should be around 8 hours.
Visitor's Book
"Truly one of the best places that I have found on the Kenyan coast. The cottage is very stylish with panorama views over the Indian Ocean. It is located on one of the best parts of the beach and away from the bigger hotels so has lots of privacy. The outside deck has a small but really nice little pool and the breeze from the ocean makes the deck a great place to hang out. The staff are lovely and the chefs were good. Joe, the owner, welcomed us very well and was very easy to communicate with prior to our arrival. I would love to come back to this place soon!"
Moa, Nairobi
"We Loved it!! Our stay at Marula Cottage was simply amazing. The cottage was nothing short of gorgeous with incredible and unobstructed views of the pristine beach and open waters. Kathrin and Joe truly went above and beyond to make our stay a memorable one. We really could not ask for better hosts. Their staff were very pleasant and helpful as well. It was a real treat to stay here. We'll definitely be back!"
Victoria, Nairobi
"Everything about this place is perfect – decoration, location, space, view, etc. What made our stay even better was Kathrin's warm hospitality – we did not have to worry about anything. Also, the house staff were all very nice and hospitable. Dorcas, chef de cuisine, was incredibly gentle and cooked delicious breakfasts for us. All-in-all, our stay was just perfect. If you go to Diani, I definitely recommend Marula Cottage."
German, DRC
Rates
Standard rental rates –
Ksh 25,000 per night for up to 2 guests
Ksh 27,500 per night for 3-4 guests
Minimum stay – 2 nights
All stays are on a 'bed & breakfast' basis
Rentals are on a 'self catering' basis with housekeeping. Guests should provide all their own food and drink. Shopping is available by arrangement.
A private chef is available for an additional Ksh 2,500 per day
Christmas & New Year
Ksh 35,000 per night for up to 4 guests
Minimum stay – 5 nights
Check in – from 1 pm , Check out – 11 am
These rates, terms and conditions are valid for stays up until 31st December 2020
Please contact us to make a booking
Please familiarise yourself with all our terms & conditions when making a booking
Availability Calendar
Please click through and refresh the calendar in order to see the most up-to-date availabilities