Manda Bay, Manda Island
An idyllic and intimate boutique beach lodge set on the quiet and unspoilt northwestern tip of Manda Island, Manda Bay makes the perfect away-from-it-all retreat and is also known for its excellent ocean fishing and wealth of water sports.
"Nowhere is better for chilling out than palm-fringed Manda Bay- totally laid-back, it is more house party than hotel. Come here for a Robinson-Crusoe encounter – go barefoot all day, walk along bone-white sand beaches, lie by the infinity pool and watch the children try their hand at all sorts of watersports. Forget kids' clubs – here is an island where your rug rats can run wild and free. Take a trip on the 60-foot dhow, go deep-sea fishing, snorkelling or water-skiing and – most popular – feed bush babies in the bar at night. There's no aircon and no mod cons, just rough-and-tumble, back-to-basics rustic loveliness. The food is fresh from the sea, simple and delicious – watch your brood tuck into tuna sushi and mangrove crab."

Tatler Magazine
Summary
Informal luxury, privacy and tranquility on a palm-fringed peninsula
Authentic, charming, owner-managed and hosted
Swimming pool and miles of empty white-sand beaches
Big-game fishing, reef fishing, salt-water fly fishing – and plenty of water sports
22 spacious private bandas with ensuite bathrooms
From ksh 20,000 per adult guest per night on a full-board basis in a Garden Room
Detailed information
Accommodation and facilities
11 beach front rooms
5 sea view rooms
6 garden rooms
All rooms have ensuite bathrooms
Infinity pool (filtered saltwater)
Private airstrip
Bar and dining room
Poolside lounge
Games room with table tennis, darts and pool
Reading/meeting room
Reasonable cell phone signal
Internet available
Laundry service
Activities and excursions include –
Deep sea fishing
Inshore fishing
Saltwater fly fishing
Dhow sailing aboard 'Utamaduni'
Sailing
Windsurfing
Kayaking
Waterskiing
Snorkelling
Banana & inflatable tube rides
Game drives
Archaeological site visits
Cultural tours of Lamu
Spa Treatments
Location
Surrounded by miles of soft white sand and coconut palms, Manda Bay sits in a sheltered position on the unspoilt north eastern tip of Manda Island. The lodge looks out across the deepwater channel that separates Manda and Pate islands from the Kenyan mainland and the Indian Ocean. Both the airport and Lamu Town are about 8 miles away by boat and the trip by speedboat takes less than 30 minutes via the narrow Mkanda Channel ('the belt').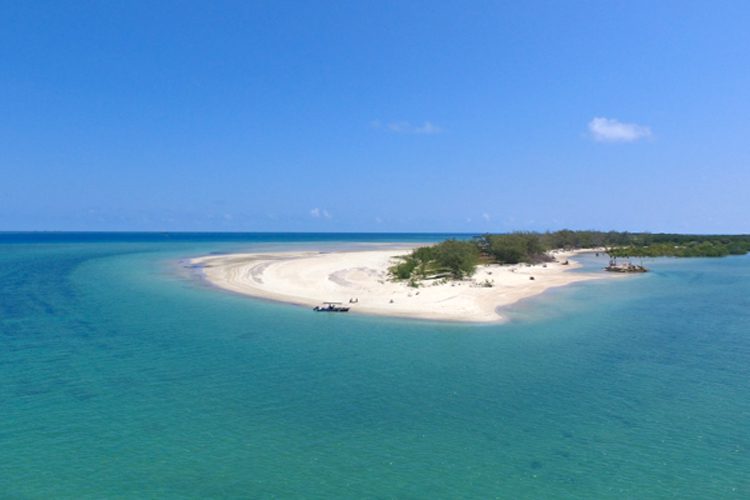 Nearby Manda Toto Island ('Baby Manda') makes a lovely and gentle boat excursion and is an excellent place to swim, snorkel and picnic. It is also known for its beautiful birdlife and often attracts flocks of many thousands of northern Carmine Bee Easters. Manda Bay Lodge is at the forefront of local conservation and community initiatives and is committed to protecting the area's environment, marine life and wildlife.
The land behind the lodge is dry bush country scattered with Doum Palms and Acacia and Baobab trees. Nocturnal animals predominate including mongoose, civet cat, porcupine, genet cat, dik dik and bushbuck. There is also a sizeable herd of buffalo and game drives are possible in Manda Bay's convertible Range Rovers. Close to the lodge are the Manda Town Ruins – the sizeable remains of an ancient Swahili town dating back over 1000 years.
How to get there
Lamu is best accessed by air and there are usually several scheduled flights per day to and from Nairobi. Some flights also arrive or depart via Malindi. Airlines serving Lamu include :
Visitor's Book
"What a wonderful place – magical sunsets, the restless ocean at your doorstep, professional and friendly staff, delicious feasts from the sea, and a capable manager who puts guests at ease and provides for their every desire."
Jessie, Utah USA
"Manda Bay is a relaxed dream – three steps from your bed and you are in the sea. There are lovely sandy beaches, palm trees, cold drinks and really friendly staff. You'll eat really delicious and fresh locally-caught fish and crab. There is awesome deep sea and fly fishing, and the waterskiing and screamers are great fun for both children and adults."
Luke, Yorkshire UK
"We had the privilege of spending a few nights at Manda Bay on the recommendation of some friends and boy were we glad – the place is literally paradise! The accommodation is so rustic and wonderful, the food sublime, the cocktails even better – and the staff (can we call the amazing family that run the place staff?) were a joy to spend time with. I cannot speak highly enough, nor urge you enough to go and experience it for yourself. We will definitely be returning!"
ELD, Dubai
Rates
Standard Resident Rates – valid from 5th January to 20th December 2023
Beach front Rooms
Ksh 28,000 per adult sharing per night
Ksh 32,000 per single per night
Ksh 13,000 per child (2-16 years) per night
Children under 2 years stay free of charge
Seaview Rooms
Ksh 22,000 per adult sharing per night
Ksh 26,000 per single per night
Ksh 13,000 per child (2-16 years) per night
Children under 2 years stay free of charge
Garden Rooms
Ksh 20,000 per adult sharing per night
Ksh 25,000 per single per night
Ksh 13,000 per child (2-16 years) per night
Children under 2 years stay free of charge
Minimum stay – 2 nights
Please contact us for Christmas & New Year Resident Rates – valid from 21st December to 4th January 2024. Minimum stay is 3 nights
If parents would rather their children were in their own room, then the children would pay the child rate for 2-16 year olds
All rates are for full-board accommodation (excluding drinks from the bar), use of paddle boards and kayaks, exercise room, windsurfers, sailboat, swimming pool, water at meals, laundry and WIFI.
These rates are for Residents – please contact us for Non-Resident rates
Check-in from 12 noon and Check-out by 10am. Later check-out can be arranged by prior arrangement. Additional fees may apply
These rates, terms & conditions are valid for stays up until 5th January 2024
Please contact us for rates for fishing, motorised water sports, spa treatments and other activities and excursions