Mnarani House, Shela, Lamu
An imposing Swahili mansion in one of the best spots in Shela, very close to Peponi Hotel, the seafront and beach, Mnarani House has 4 double ensuite bedrooms, a courtyard swimming pool and is beautifully decorated and furnished in authentic Lamu style.
"We enjoyed a week long break at Mnarani House and it was incredible! The house is even more beautiful than the photos and the staff really were outstanding – they did everything they could to make us feel at home and comfortable – from organising boat rides to preparing the world's best prawns three nights in a row. It was the quiet season in Lamu, and the town was blissfully peaceful. Highly recommend to anyone looking for a beautiful and comfortable home in Shela."

Jean, Stellenbosch, South Africa
If you are looking for a beautiful and private place to stay with excellent and experienced staff, somewhere with a swimming pool and lovely sea views and which is close to the beach and Peponi Hotel, then look no further than Mnarani House – it really does tick all the desirable Shela boxes.
'Mnarani' means 'near the minaret' in Kiswahili and the house is situated just beside Shela's historic Friday Mosque with its unique conical minaret, around 75 metres from the Shela seafront and just a minute or two from the island's wonderful 8-mile long beach.
Mnarani was fully and beautifully renovated and redecorated in 2014, and one of the new additions to the house was the lovely swimming pool. It sits in an open courtyard area next to the magnificent Ground Floor reception chambers which feature walls of intricate zidaka niches, decorative plaster friezes and traditional painted hardwood roof beams.
"An absolutely beautiful home with lots of stunning terraces and outdoor spaces. Great for a group of friends or a large family to relax in for a few days. The location is perfect, just behind Peponi Hotel which means it's super easy to enjoy a sunset cocktail at the bar while the wonderful staff at Mnarani House prepare a delicious dinner. The decor is beautiful, the amenities are great and everything, from arriving at Manda airport to organising meals to booking a massage, was easy. I'll definitely be back soon."

Radhika, New York
Also on the Ground Floor of the house is the kitchen and bar area, and on the first and second floors there are four double bedrooms – each with an ensuite bathroom. Rooms are beautifully decorated and furnished in traditional style, including original antique Swahili doors and windows brought from Pate Island. Each upper floor also has a dining area and a covered sitting area with spacious and comfortable baraza sofa seats.
Mnarani House is detached and open and breezy throughout. Views on the village side of the house are of rooftops, gardens, palm trees and bougainvillea, and on the seafront side the house looks out over the Friday Mosque and Peponi Hotel and across the Lamu Channel to Manda Beach and Ras Kitau.
The house and its guests are very well looked after by the experienced and helpful team of Raphael and Lucas. Raphael has been at Mnarani since 2008 and manages the house on day-to-day basis. Lucas has been cooking for the owners and their friends and guests for more than 20 years and has a wide repertoire of delicious dishes. He can arrange a daily supply of fresh fish, lobster, crab, calamari and prawns.
"This is the most beautiful house any of us had ever seen – we had high expectations because the photos looked so amazing but it was even better in person – and it's in a perfect location with the most incredible views. Lucas and Raphael couldn't have been more superb and made us feel like we truly belonged there – they made us the most delicious meals and snacks for sundowners and hooked us up with the best boat captain who took us all over the place. I travel a lot so I rarely think I'll go back somewhere – but without a doubt I will return to Shela and Mnarani House."

Sarah, Georgia, USA
Summary
One of Shela's loveliest private holiday homes
Well located, long-established, highly recommended
Courtyard swimming pool, historic Swahili atmosphere
Airy, sea-view roof terraces and balconies
Exceptional, experienced staff and great cooking
Accommodates up to 8 guests in 4 ensuite double bedrooms
From US$600 per night 'self catering' with chef and housekeeper
Detailed information
Accommodation and Facilities
Grand ground-floor reception chambers
Courtyard swimming pool
Ground floor living & lounging area
Ground floor kitchen, bar & cloakroom
4 ensuite double bedrooms on 1st and 2nd floor
1st and 2nd floor covered living and dining areas
2nd floor open-air terrace
2nd floor drinks fridge
Experienced house steward and chef
Inverter battery back-up electricity
Water filtration system
Wifi internet
Airport transfers – organised at additional cost
Location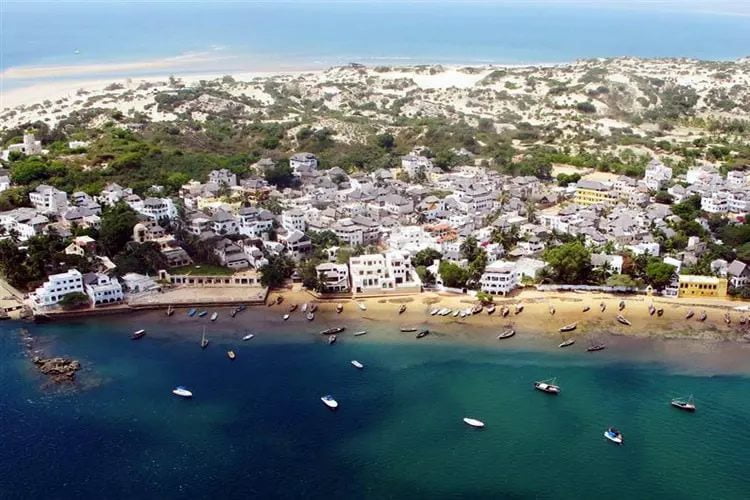 Mnarani House sits just 75 metres from the seafront in Shela Village, close to the eastern tip of Lamu Island. The island's main beach is just a minute or two away from the house, as are Peponi Hotel and the other attractions of the village. Lamu Town is two miles north of Shela, and Manda Island and its airport are just a short boat ride away.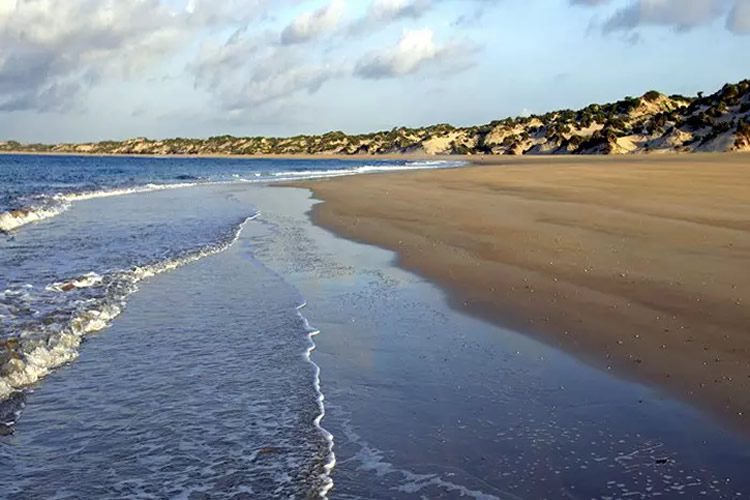 How to get there
Lamu is best accessed by air and there are usually several scheduled flights per day to and from Nairobi. Some flights also arrive or depart via Malindi. Airlines serving Lamu include :
Visitor's Book
"An absolutely beautiful home with lots of stunning terraces and outdoor spaces. Great for a group of friends or a large family to relax in for a few days. The location is perfect, just behind Peponi Hotel which means it's super easy to enjoy a sunset cocktail at the bar while the wonderful staff at Mnarani House prepare a delicious dinner.  The decor is beautiful, the amenities are great and everything, from arriving at Manda airport to organising meals to booking a massage, was easy.  I'll definitely be back soon." 
Radhika, New York
"This is the most beautiful house any of us had ever seen – we had high expectations because the photos looked so amazing but it was even better in person – and it's in a perfect location with the most incredible views.  Lucas and Raphael couldn't have been more superb and made us feel like we truly belonged there – they made us the most delicious meals and snacks for sundowners and hooked us up with the best boat captain who took us all over the place. I travel a lot so I rarely think I'll go back somewhere – but without a doubt I will return to Shela and Mnarani House."
Sarah, Georgia, USA
"We enjoyed a week long break at Mnarani House and it was incredible! The house is even more beautiful than the photos and the staff really were outstanding – they did everything they could to make us feel at home and comfortable – from organising boat rides to preparing the world's best prawns three nights in a row.  It was the quiet season in Lamu, and the town was blissfully peaceful.  Highly recommend to anyone looking for a beautiful and comfortable home in Shela."
Jean, Stellenbosch, South Africa
"Mnarani means 'near the minaret' in Swahili and this house stands next to Shela's historic Friday mosque – 75 metres from the beach. It was renovated in 2014, one of the new additions being a lovely courtyard pool. Expect walls of intricate zidaka niches, decorative plaster friezes and traditional painted hardwood beams. On the ground floor is the kitchen and bar area, while the second and third floors have the four ensuite double bedrooms. Rooms are beautifully decorated and furnished in traditional style, including original antiques and Swahili doors and windows brought from Pate Island."
Nomad Magazine
Rates
Standard rates
Valid from 9th Jan to 6th Apr | 11th to 30th Apr | 1st Jul to 14th Dec
US$600 per night
Minimum stay – 3 nights
Low season rates
Valid from 1st May to 30th June
US$450 per night
Minimum stay – 3 nights
Easter
Valid from 7th to 10th April
US$800 per night
Minimum stay – 4 nights
Christmas & New Year
Valid from 15th December 2023 to 8th January 2024
US$1,200 per night
Minimum stay – 7 nights
All stays are on a 'self catering' basis including the services of chef and housekeeper
Airport boat transfers organised at additional cost
Check in – 3 pm, Check out – 10 am
Maximum occupancy – 8 guests
These rates, terms and conditions are valid for stays up until 8th January 2024
Please contact us to make a booking
Please familiarise yourself with all our terms & conditions when making a booking
Availability Calendar
Please click through and refresh the calendar in order to see the most up-to-date availabilities