Azhari Beach Suite, Diani
A unique and luxurious cottage for two set in lovely tropical gardens just steps from the Indian ocean and one of Africa's most beautiful beaches, Azhari is the ideal private romantic retreat for couples and honeymooners. Relax and enjoy stunning sea views, a private plunge pool and refreshing jungle shower.
"What a magical & special place! We absolutely loved every minute of our stay at Azhari. The set up is breathtaking and from the moment we arrived to our departure everything was simply perfect. We were greeted with a cold madafu (fresh coconut juice) and cold towels to refresh ourselves from our safari journey, and we continued throughout our stay to be pampered with delicious fresh meals served on our private veranda with an stunning sea view. It was definitely the best food we were served during our stay in Kenya. The beach view is stunning and there was always a breeze which made our afternoon naps in the open bedroom a dream. The beach and Indian Ocean was literally just a few footsteps from our room and Diani Beach is one of the most beautiful that I have visited. I nearly forgot to mention the incredible outdoor jungle shower – very private and super cool – it was difficult to get my husband out of there. Nicole was a top host – she really looked after us and made sure that we had a fantastic time and everything we needed. I have traveled a lot and have stayed in many luxurious places, but can certainly say that Azhari topped all of them. We will be back soon"

Kate, January 2018
"We had an amazing time and Nicole was a lovely host. Azhari is every bit as beautiful as the pictures – even more so. The location was perfect, just by the beach – it was a little slice of heaven. Nicole was kind enough to share very useful tips about getting around and places to check out. I literally have nothing negative to say about the place or experience. Our only regret is that our stay was too short! We'll be back soon."

Ivy, Nairobi
"Everything about our stay was perfect. Nicole greeted us personally when we arrived. The property was unbelievably beautiful in an ideal location a few steps from the beach and close to restaurants and bars. Breakfast was one of my favorite parts of the stay – everything homemade and delicious. Thank you Nicole for the great recommendations!"

Charlotte, San Francisco
"Absolutely amazing. It was like being on my own private island. I didn't have to worry about a thing because Nicole, Saida and Bakari took care of all of it. I felt welcomed and treasured. I am already looking to book my next holiday at Azhari. It really delivered in terms of thinking space, relaxation and reflection. Perfect! Perfect!"

Wambui, Nairobi
"We stayed at Azhari for our honeymoon and it was SO PERFECT!! The place is gorgeous with direct access to the beach. Nicole, the owner, is an incredible host – she thinks of every little detail to make your stay even more perfect. All the staff are really friendly and helpful too. I couldn't have asked for anywhere better for my honeymoon – we liked it so much that we want to come back for our wedding anniversary!!"

Alexandra, Canada
"We had the most amazing five days staying at the Azhari Suite – our only regret was not staying for longer! It is absolute luxury, beautifully designed and very peaceful. The pictures look amazing, but even so don't do it justice! We had our own secluded area as well as direct access to the beach. We had breakfast every morning and dinner on a couple of nights – all delicious! Nicole and Simon were wonderful and we can't thank them enough for making us feel welcome, relaxed and for helping us book restaurants, taxis and anything else we needed. The staff were very friendly and attentive and kept everything very clean and well made-up at all times. All-in-all a wonderful stay and we can't it recommend enough!!"

Georgina, Greece
"We had a wonderful weekend at Azhari and will definitely plan to return when we are able. The suite is very private and beautifully located with fantastic views of the ocean. It is very tastefully decorated and every comfort and detail has been thought of – even down to the provision of a wireless speaker so that we could enjoy some music while we were there! The fridge was well stocked with drinks which were replenished whenever we required. The staff are very good and I have to mention Catherine, the cook, in particular! She is a great cook and we thoroughly enjoyed all our meals which were delicious. Nicole was very accommodating of all our particular food requests in her menu planning! She is a very attentive host and makes sure that her guests really enjoy their stay. Thank you so much to everyone at Azhari for making our stay perfect!!"

Sallie, Nairobi
Summary
A magical new 1-bedroom beachfront retreat
Beautifully built and well appointed
Air-conditioning, plunge pool, jungle shower
Excellent service with on-site management
Delicious full-board and half-board options available
From Ksh. 45,000 per night "bed & breakfast" for two
Detailed information
Air-conditioned double bedroom
Super King double bed
High quality bed linen
Blackout blinds and bedroom soundproofing
Spacious ensuite bathroom with wardrobe area
Open-air living and dining room
Kitchenette with drinks fridge
Reclaimed hardwood flooring throughout
Plunge pool (2×4 metres)
Terrace with sun beds and hammock
Jungle shower and beach shower
Yoga deck
Tropical beachfront gardens
Direct access to beach
Towels and beach towels supplied
Bathroom toiletries
Wi-fi internet
USB charging ports
Cook and housekeeping service
On-site owner-manager
Bottled drinking water, coffee & tea included
Digital room safe
Massage and beauty treatments available
Laundry service available
Hairdryer
Free use of sea kayaks
Generator power and UPS back-up
Security with dog patrol
Location
Beautiful Diani Beach is known for its powder white sands and has been voted the best beach in Africa by the World Travel Market and one of the 25 best beaches in the world by Trip Advisor. All kinds of water sports activities and excursions are available nearby – from snorkeling to sky diving – and the owners and managers of the property will be pleased to advise and help organise these for you.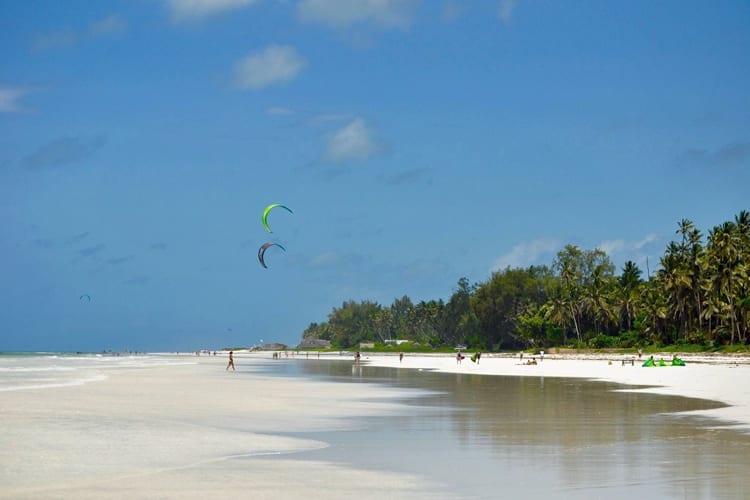 Only a short walk away from the property there is a supermarket stocking basic provisions, along with several fruit and vegetable stalls. Along the beach road and within 5-10 minutes' drive there are four larger supermarkets and a number of banks, ATM machines and gift shops. There are a number of good places to eat and drink nearby including Sails Beach Bar & Restaurant and the Blue Marlin.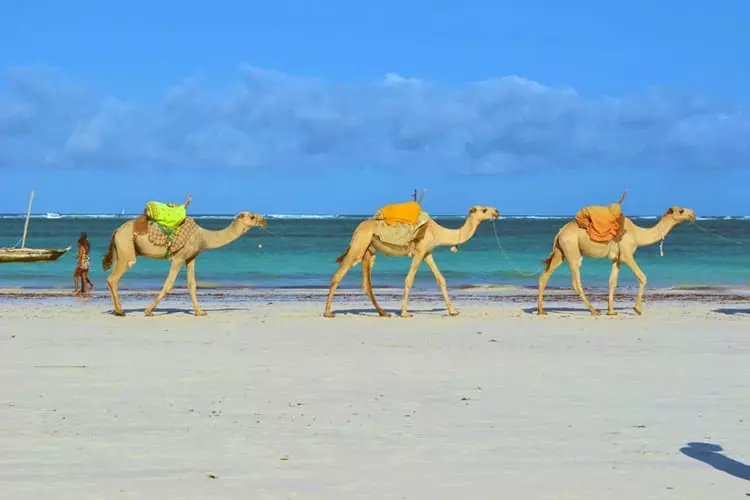 How to get there
By Air
The property is just 10 minutes from Diani/Ukunda Airstrip which has several scheduled flights each day to and from Nairobi.  Airlines serving Diani/Ukunda and Nairobi include :–
The property is approximately 30 miles South of Mombasa Airport, which handles both domestic and international flights. Domestic airlines serving Mombasa and Nairobi include-
By Road
The property is approximately 20 miles south of Mombasa Island via the Likoni Ferry and the main A17 coastal road. Please contact us for detailed directions.  Driving Time from Nairobi should be around 8 hours.
Visitor's Book
"What a magical & special place! We absolutely loved every minute of our stay at Azhari. The set up is breathtaking and from the moment we arrived to our departure everything was simply perfect. We were greeted with a cold madafu (fresh coconut juice) and cold towels to refresh ourselves from our safari journey, and we continued throughout our stay to be pampered with delicious fresh meals served on our private veranda with an stunning sea view. It was definitely the best food we were served during our stay in Kenya. The beach view is stunning and there was always a breeze which made our afternoon naps in the open bedroom a dream. The beach and Indian Ocean was literally just a few footsteps from our room and Diani Beach is one of the most beautiful that I have visited. I nearly forgot to mention the incredible outdoor jungle shower – very private and super cool – it was difficult to get my husband out of there. Nicole was a top host – she really looked after us and made sure that we had a fantastic time and everything we needed. I have traveled a lot and have stayed in many luxurious places, but can certainly say that Azhari topped all of them. We will be back soon"
Kate, January 2018
"My wife and I spent 7 nights at Azhari. A truly fabulous experience! It's private, moments away from the Indian Ocean, but within walking distance to shops, bars and the best restaurants in Diani. The property is outstanding! The gardens are fantastic with their magical 1000 year old baobab trees – wow! I spent the week admiring the exotic woods, fine craftsmanship and the thought that has gone into this place – everything was better than excellent. Thanks again to the wonderful team of staff – everyone was so happy and helpful which is one of the reasons we love Kenya so much. The only problem was that we had to leave Azhari, but we're already looking forward to coming back again next year."
Ray & Sophie, January 2018
"What a magical & special place! We absolutely loved every minute of our stay at Azhari. The set up is breathtaking and from the moment we arrived to our departure everything was simply perfect. We were greeted with a cold madafu (fresh coconut juice) and cold towels to refresh ourselves from our safari journey, and we continued throughout our stay to be pampered with delicious fresh meals served on our private veranda with an stunning sea view. It was definitely the best food we were served during our stay in Kenya. The beach view is stunning and there was always a breeze which made our afternoon naps in the open bedroom a dream. The beach and Indian Ocean was literally just a few footsteps from our room and Diani Beach is one of the most beautiful that I have visited. I nearly forgot to mention the incredible outdoor jungle shower – very private and super cool – it was difficult to get my husband out of there. Nicole was a top host – she really looked after us and made sure that we had a fantastic time and everything we needed. I have traveled a lot and have stayed in many luxurious places, but can certainly say that Azhari topped all of them. We will be back soon"
Kate, January 2018
"We had an amazing time and Nicole was a lovely host. Azhari is every bit as beautiful as the pictures – even more so. The location was perfect, just by the beach – it was a little slice of heaven. Nicole was kind enough to share very useful tips about getting around and places to check out. I literally have nothing negative to say about the place or experience. Our only regret is that our stay was too short! We'll be back soon."
Ivy, Nairobi
"Everything about our stay was perfect. Nicole greeted us personally when we arrived. The property was unbelievably beautiful in an ideal location a few steps from the beach and close to restaurants and bars. Breakfast was one of my favorite parts of the stay – everything homemade and delicious. Thank you Nicole for the great recommendations!"
Charlotte, San Francisco
"Absolutely amazing. It was like being on my own private island. I didn't have to worry about a thing because Nicole, Saida and Bakari took care of all of it. I felt welcomed and treasured. I am already looking to book my next holiday at Azhari. It really delivered in terms of thinking space, relaxation and reflection. Perfect! Perfect!"
Wambui, Nairobi
"We stayed at Azhari for our honeymoon and it was SO PERFECT!!  The place is gorgeous with direct access to the beach.  Nicole, the owner, is an incredible host – she thinks of every little detail to make your stay even more perfect. All the staff are really friendly and helpful too. I couldn't have asked for anywhere better for my honeymoon – we liked it so much that we want to come back for our wedding anniversary!!"
Alexandra, Canada
"We had the most amazing five days staying at the Azhari Suite – our only regret was not staying for longer!  It is absolute luxury, beautifully designed and very peaceful. The pictures look amazing, but even so don't do it justice! We had our own secluded area as well as direct access to the beach. We had breakfast every morning and dinner on a couple of nights – all delicious! Nicole and Simon were wonderful and we can't thank them enough for making us feel welcome, relaxed and for helping us book restaurants, taxis and anything else we needed. The staff were very friendly and attentive and kept everything very clean and well made-up at all times. All-in-all a wonderful stay and we can't it recommend enough!!"
Georgina, Greece
"We had a wonderful weekend at Azhari and will definitely plan to return when we are able. The suite is very private and beautifully located with fantastic views of the ocean. It is very tastefully decorated and every comfort and detail has been thought of – even down to the provision of a wireless speaker so that we could enjoy some music while we were there! The fridge was well stocked with drinks which were replenished whenever we required. The staff are very good and I have to mention Catherine, the cook, in particular! She is a great cook and we thoroughly enjoyed all our meals which were delicious. Nicole was very accommodating of all our particular food requests in her menu planning! She is a very attentive host and makes sure that her guests really enjoy their stay. Thank you so much to everyone at Azhari for making our stay perfect!!"
Sallie, Nairobi
Rates
Standard Rates – minimum 2 nights stay
B&B Ksh 45,000
Half Board Ksh 53,000 (Dinner 3 course meal)
Full Board Ksh 59,000 (Lunch 2 courses & Dinner 3 courses)
Easter weekend – minimum 3 nights stay
Christmas & New Year – minimum 6 nights stay
B/B – $680
H/B – $780 (Dinner 3 course meal)
F/B – $850 (Lunch 2 courses & Dinner 3 courses)
One child up to 10 years old can be accommodated when sharing with two adults
Children aged 2-10 are charged 50% of the single adult rate, children 2 and under stay free
These rates, terms & conditions are valid for stays up until 6th January 2021
Please contact us to make a booking
Please familiarise yourself with all our terms & conditions when making a booking
Availability Calendar
Please click through and refresh the calendar in order to see the most up-to-date availabilities