Olohoro Onyore Ndogo, Champagne Ridge, Nairobi
The perfect near-to-Nairobi romantic retreat for two, Olohoro Onyore Ndogo is quick and easy to get to from the city and enjoys spectacular views across the Rift Valley. Enjoy the new swimming pool and scenic outside bath.
"We just loved every second we spent in this romantic nest. Amazing views, great staff and so much silence around. We will definitely come back. Many thanks."

Katie, Nairobi​
"What a beautiful house with an ethereal view. I haven't experienced peace like this for a very long time! Thank you for such an unforgettable stay!"

F& J, Nairobi
"Our stay was absolutely MAGICAL! The place was way way above my expectations! I loved it and she loved it. I really appreciated the professional communication from your end. Peter and Stella were truly truly welcoming. We took lots of great photos and will definitely be recommending Olohoro Onyore Ndogo. Thanks again!"

Kevin, Nairobi
"A beautiful home with amazing views of the Rift Valley – the design is great and it had all the cooking and kitchen amenities we needed to prepare meals. The place was very clean and it was the perfect place to disconnect and unwind. One of the most beautiful homes I've stayed in and I would definitely come back again."

Haeun, Nairobi
"We desperately needed a great place like this to get away from city life.  What a wonderful place to unwind and release all the tensions and stresses.  Thank you for having us and for sharing all the wonderful views, the delicious cooking by Stephen and the amazing staff."

MM, Nairobi
"What a beautiful house and very well put together – it feels nicer than home. It's so good to be in a house that actually works!  The most incredible thing is the outlook and location – the Rift Valley is laid out in front of you with one of the most spectacular views Kenya has to offer."

A, K & P, Nairobi
"We had a wonderful time at Olohoro Onyore Ndogo. Marvin and Peter were very helpful and took care of us very well. The food cooked by Marvin was delicious. We really enjoyed the views from the house. We will definitely be coming back again. Many Thanks."

Payal, Nairobi, June 2019
Summary
A charming private cottage in a wonderfully scenic location
The ideal getaway for a couple
Just over one hour from Nairobi by car
Swimming pool, 'bath with a view' and fire pit
Accommodates 2 adult guests
Enjoy the services of chef and housekeeper
Standard rental rate – ksh 25,000 per night 'self catering'
Detailed information
1 double bedroom
Ensuite bathroom
Sitting room with sofa and dining table
Open plan kitchenette with gas hob and microwave
Two fridges
Outside veranda with dining area
Barbecue
Swimming pool
Fire pit and outside lounging area
External 'bath with a view'
Housekeeper and cook
Masseuse and beauty treatments available on request
Solar powered with back-up generator
Cellphone signal (Safaricom)
Location
Situated just 20 miles (30 km) south of central Nairobi, Champagne Ridge is long spur of land looking out south and west across the Rift Valley towards Lake Magadi and the Tanzanian Border.  Quiet and peaceful, it is home to just a few private holiday houses.  Within easy reach on the road to Magadi are Olorgesailie Prehistoric Site – Kenya's most important and largest archaeological and geological site, and Olepolos Country Club – a highly regarded nyama choma joint with great views.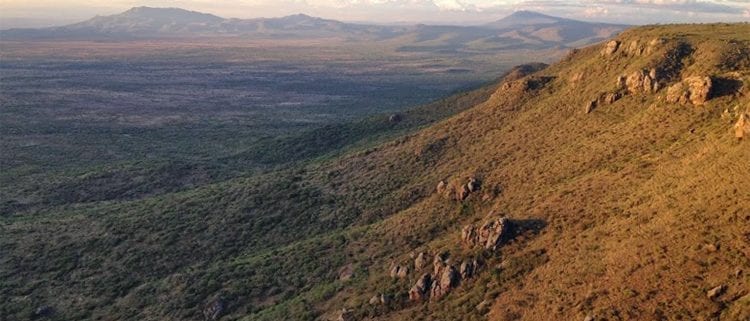 How to get there
Access to the property from Nairobi is along the C58 Magadi Road via Ongata Rongai and Kiserian. After Kiserian turn left at Corner Baridi onto the murram road which runs the length of Champagne Ridge – the property is approximately 7.5 miles (12 km) along this road. Driving time from Langata Road at Bomas of Kenya/Galleria Mall should be just over 1 hour. We can supply guests with detailed driving instructions.
Visitor's Book
"We just loved every second we spent in this romantic nest. Amazing views, great staff and so much silence around. We will definitely come back. Many thanks."
Katie, Nairobi​
"What a beautiful house with an ethereal view. I haven't experienced peace like this for a very long time! Thank you for such an unforgettable stay!"
F& J, Nairobi
"Our stay was absolutely MAGICAL! The place was way way above my expectations! I loved it and she loved it. I really appreciated the professional communication from your end. Peter and Stella were truly truly welcoming. We took lots of great photos and will definitely be recommending Olohoro Onyore Ndogo. Thanks again!"
Kevin, Nairobi
"A beautiful home with amazing views of the Rift Valley – the design is great and it had all the cooking and kitchen amenities we needed to prepare meals. The place was very clean and it was the perfect place to disconnect and unwind. One of the most beautiful homes I've stayed in and I would definitely come back again."
Haeun, Nairobi
"We desperately needed a great place like this to get away from city life. What a wonderful place to unwind and release all the tensions and stresses. Thank you for having us and for sharing all the wonderful views, the delicious cooking by Stephen and the amazing staff."
MM, Nairobi
"What a beautiful house and very well put together – it feels nicer than home. It's so good to be in a house that actually works! The most incredible thing is the outlook and location – the Rift Valley is laid out in front of you with one of the most spectacular views Kenya has to offer."
A, K & P, Nairobi
"We had a wonderful time at Olohoro Onyore Ndogo. Marvin and Peter were very helpful and took care of us very well. The food cooked by Marvin was delicious. We really enjoyed the views from the house. We will definitely be coming back again. Many Thanks."
Payal, Nairobi, June 2019
Rates
Standard accommodation rate – ksh 25,000 per night 'self catering' with chef and housekeeper
Preference is given to bookings of 2 nights or more
1-night bookings are sometimes available 'last minute'
Christmas, New Year and Easter rental rate – ksh 30,000 per night
Minimum stay over Christmas, New Year and Easter – 3 nights
All rentals are on a 'self catering' basis – including the services of cook and housekeeper
Massage and beauty treatments available (at extra cost) – please book ahead
The house is not suitable for children of 6 or under due to steep slopes and drops outside
Check in from 3 pm – Check out by 12 noon
The owners require all guests to sign an indemnity/disclaimer form upon arrival
These rates, terms and conditions are valid for stays up until 3rd January 2024
Please contact us to make a booking
Please familiarise yourself with all our terms & conditions when making a booking
Availability Calendar
Please click through and refresh the calendar in order to see the most up-to-date availabilities